Połączenie namiotu z hamakiem. Śpij wysoko i wygodnie!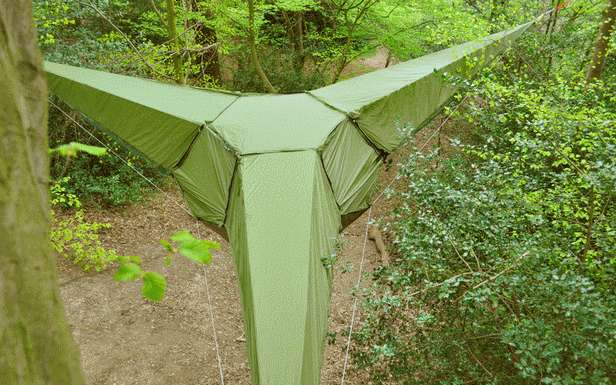 Rosnąca temperatura już niebawem zachęci wielu z nas do dłuższych wypraw i biwakowania z dala od cywilizacji. Warto poznać rozwiązanie, które zapewniając ochronę i komfort, jest zarazem pozbawione wad typowych dla namiotów.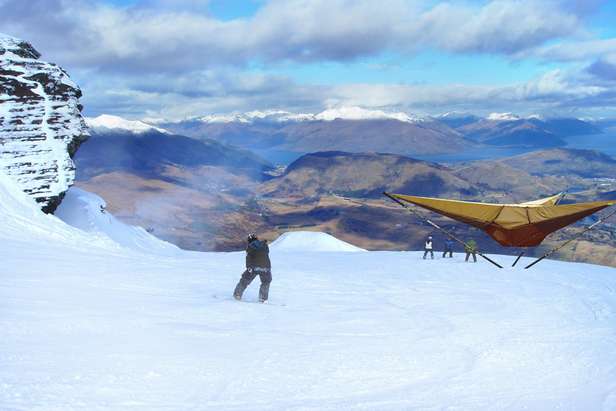 Namioty, choć są wytwarzane z coraz lżejszych i wytrzymalszych materiałów, mają istotną wadę – aby je rozbić, trzeba znaleźć kawałek w miarę płaskiego terenu, a ich wnętrza mogą okazać się niezwykle skutecznym wabikiem na wszelkiego rodzaju owady i innych nieproszonych gości.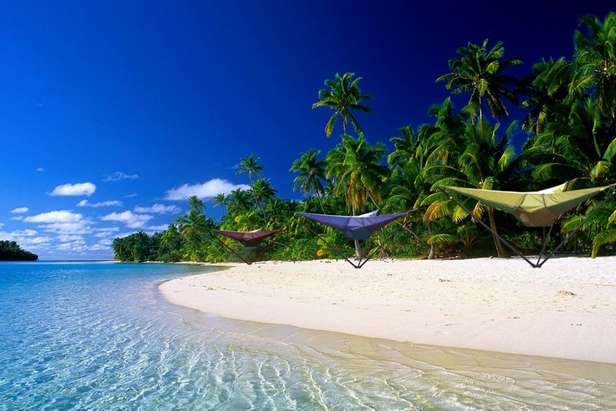 Pomysł, zaproponowany przez Tentsile, wydaje się pozbawiony tych wad. Co w nim niezwykłego? Zamiast namiotu jest w tym przypadku coś, co z boku przypomina hamak, a w rzucie poziomym okazuje się trójramienną gwiazdą.
Tak osobliwy kształt ma uzasadnienie. Namiot, podobnie jak hamak, jest rozbijany poprzez zawieszenie np. między drzewami, a w miejscach, gdzie nie jest to możliwe, może zawisnąć na zewnętrznym szkielecie (o innym, wiszącym namiocie możecie przeczytać w tym artykule).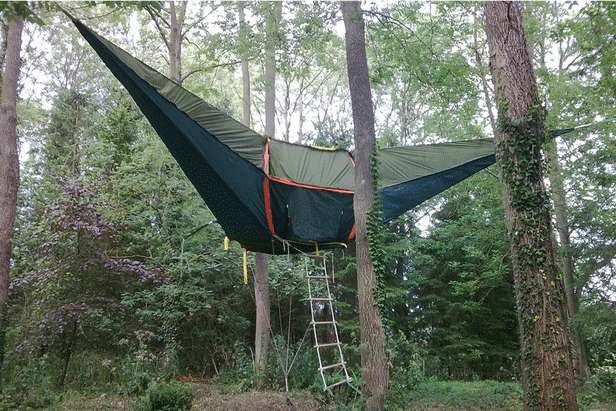 Istotną zaletą takiego rozwiązania jest możliwość – dzięki zewnętrznemu szkieletowi – rozbicia namiotu na zupełnie bezdrzewnym terenie w taki sposób, że będzie on pozostawał poza zasięgiem większości zwierząt. Zastanawia mnie użyteczność takiego rozwiązania podczas porywistego wiatru – sądzę, że cała konstrukcja może wówczas działać jak żagiel.
Pomysł, choć niecodzienny, wydaje się jednak dość ciekawy, zwłaszcza w przypadku rekreacyjnych wyjazdów na łono natury. Namiot został zaprojektowany w taki sposób, aby zapewniał maksymalną ilość miejsca przy minimalnej wadze. Czy się to udało? Podany na stronie producenta ciężar 2-osobowego namiotu wyróżnia się sporą rozpiętością i wynosi 5-8 kilogramów. Cena namiotu nie została na razie podana.