SCHRONIENIE - SURVIVAL
Krzysztof - pasjonat survivalu i wędrówek z plecakiem. Dawniej związany z organizacją Strzelecką. Autor: www.abc-survival.pl
W tym artykule poruszę temat obozowania, tak by było ono bezpieczne oraz żebyś maksymalnie je wykorzystał. Na początku, musimy odpowiedzieć sobie czym jest obozowanie? Obozowanie jest pojęciem pod którym rozumiem całość przebywania w obozie (w schronieniu), czyli właściwa higiena, oraz odpowiednie zachowanie. Obozowanie, niezależnie od tego, czy nocujesz w namiocie, we wgłębieniu skalnym, w jaskini, pod zwalonym drzewem czy własnoręcznie zrobionym szałasie powinno odbywać się, według kilku zasad survivalu, mianowicie:
Kości i pióra są znakiem, że gdzieś w pobliżu przebywa drapieżnik.
Nigdy nie rozbijaj obozu, na leśnych ścieżkach, lub w miejscach, w których widoczne są ślady obecności dużych zwierząt (np. buchtowisko czy wygnieciona trawa) lub drapieżników (fragmenty piór, kości, krwi), oraz upewnij się że w pobliżu nie ma mrowiska lub ula – dzięki temu spędzisz spokojną noc. Ważne jest, by nad głową nie mieć spróchniałego, lub suchego drzewa, oraz żeby nie było zagrożenia, że coś Ci spadnie na głowę (np. sucha gałąź lub kamienie). Warto przypomnieć by obozowiska nie rozbijać zbyt blisko wody, dzięki temu nie będziesz przeszkadzał zwierzątom które korzystają z wodopoju, a jednocześnie zminimalizujesz ryzyko podmycia Twojego obozu.
Jeżeli masz możliwość, miejsce spania wybierz na podwyższeniu, wtedy w przypadku deszczu, woda Cię nie zaleje – przynajmniej nie od razu. Zaleca się również, by wyjście z szałasu czy namiotu, umieścić na wschód (wtedy obudzą Cię promienie wschodzącego słońca). Jeżeli wiesz lub masz podejrzenie, że na obszarze, w którym obozujesz występują zwierzęta, które mogą Cię zaatakować (np. niedźwiedzie) - możesz wokół obozu, zrobić system wczesnego ostrzegania. Jak go zrobić? Wokół obozu rozciągasz sznurek, mocując na nim kamienie, lub metalowe naczynia w ten sposób, by przy poruszeniu sznurka kamienie spadły, lub naczynia wydały dźwięk, który ostrzeże Cię, że masz nieproszonego gościa - zanim to zrobisz, zastanów się co zrobisz gdy w środku usłyszysz brzdęk naczyć? To zająć czy niedźwiedź? A może wiatr?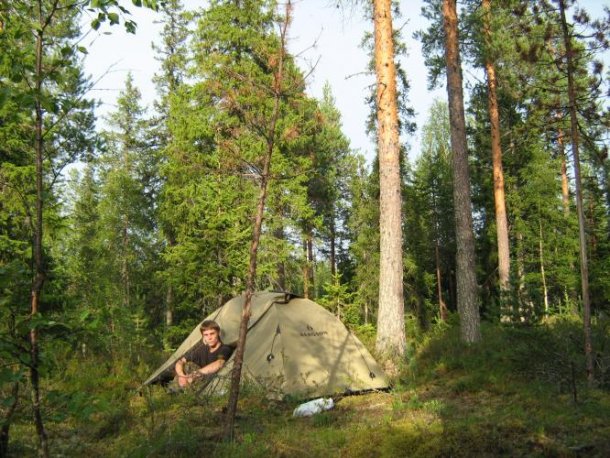 Konserwacja i czyszczenie
Gdy już wybrałeś odpowiednie miejsce i rozpaliłeś ogień, pora na zajęcie się sprzętem. Całe brudne wyposażenie musisz wyczyścić. Możesz do tego użyć liści lub jeżeli masz możliwość wody (pamiętaj by nie używać w pobliżu wody żadnych detergentów - np. w Skandynawii takie zachowanie nie jest społecznie akceptowane). Brudne i przepocone rzeczy musisz wyprać – chodźby miało to być tylko wymoczenie w wodzie – dzięki temu milej Ci się będzie je nosić, dłużej będzie spełniać swoją rolę, oraz unikniesz mówiąc kolokwialnie smrodu, owadów i chorób. Jeżeli nie masz możliwości wyprania ubrań, powinieneś je przewietrzyć i wysuszyć nad ogniem – uważaj by przez nieuwagę ich nie spalić, co najczęściej zdarza się w przypadku skarpetek i rękawiczek.
Wszelki uszkodzony sprzęt powinieneś w miarę możliwości naprawić, np. zszyć dziury w ubraniach, naprawić naderwane ramie od plecaka itp.
Higiena i jedzenie
Powinieneś również umyć lub przemyć stopy – resztę można odpuścić i poczekać na sprzyjające warunki (jezioro czy deszcz), oraz obejrzeć własne ciało (czy nie masz kleszczy, odcisków lub innych problemów - sprawdzenie ciała pod kątem kleszczy, powinieneś zrobić również po obudzeniu się). Podczas mycia rzeczy w jeziorze, lub rzece pamiętaj o jednej zasadzie. Nigdy w tym samym miejscu nie kąp się i nie pobieraj wody, jeżeli jest to rzeka, wodę powinieneś czerpać wyżej niż miejsce w którym myjesz siebie i sprzęt – dzięki temu, nie będziesz zbierał własnych zanieczyszczeń, które rzeka niesie wraz z nurtem. Jeżeli zrobiłeś już wszystkie powyższe czynności, pora coś zjeść, pamiętaj że jedzenie musisz odpowiednio zabezpieczyć – w lesie czy górach, nie tylko Ty szukasz pożywienia. Jeżeli jedzenie będziesz trzymał tam gdzie śpisz, może się zdarzyć że przyciągnie ono mrówki, owady (np. pszczoły) lub większe zwierzęta (niedźwiedzie wyjątkowo lubią jabłka, gdy je wyczują potrafią wejść do obozu i "przeszukiwać" plecaki w ich poszukiwaniu). Dlatego jedzenia nie powinno trzymać się w obozie, tylko gdzieś w pobliżu, w miejscu gdzie będzie niedostępne dla zwierząt (np. w worku wiszącym na sznurku na wyższej gałęzi). Gdy już to wszystko zrobiłeś, sprzęt jest czysty i sprawny, jedzenie zabezpieczone możesz pójść spać.
Warty
Jeżeli jest was kilku, konieczne jest pozostawienie warty, która będzie pilnowała obozowiska. Jeżeli jest was wystarczająco dużo, niech warty będą dwuosobowe (już 3 osoby do tego wystarcza). Ważne by jedna warta, nie czuwała dużej niż 2 godziny - wtedy człowiek staje się rozkojarzony dochodzi do rozluźnienia oraz zwyczajnie może usnąć. Jeżeli nie byłeś jeszcze w nocy w lesie, zapraszam do tego fragmetnu artykułu "Marsz nocą".
Zwierzęta w śpiworze
Po przespanej nocy, nie zrywaj się od razu. Często się zdarza, że w nocy różne zwierzęta wabione ciepłem ludzkiego ciała wchodzą do śpiwora. Należy wstawać ostrożnie, a wszelkich gości, którzy spali z Tobą w śpiworze, należy delikatnie zepchnąć. To samo dotyczy się butów, ubrań i otwartych plecaków. Przed ich założeniem powinieneś upewnić się, czy w środku nie ma nieproszonych gości. Dzięki przestrzeganiu tych kilku prostych zasad, bytowanie stanie się prostsze i przyjemniejsze.
Jeżeli zamierzasz lub już wędrujesz po górach czy lasach pamiętaj, o kilku zasadach (które również mieszczą się w pojęciu survival).
Nie śmieć – wszystkie butelki, papierki czy wypalone papierosy, wkładaj do worka, nie zaśmiecaj środowiska.
Nie niszcz przyrody – nie łam gałęzi, nie rozgrzebuj mrowisk, nie pisz nożem na drzewie, że tu byłeś.
Jeżeli obozujesz w lesie, pamiętaj by obóz jak najmniej ingerował w przyrodę, a ognisko było na miarę potrzeb. W innym przypadku możesz mieć problemy, gdy spotkasz leśnika lub ludzi pilnujących porządku.
Ten artykuł również może Cię zainteresować:
Źródło: www.abc-survival.pl