Moje kity i hity związane z Airsoftem
Ross154 - autor bloga http://weekend-partisan.blogspot.com o szeroko pojętej tematyce militarnej ukierunkowanej na ASG
Zbliża się koniec roku czas zabrać się na różnego typu podsumowania. Tym razem chciałbym zająć się swoimi pomysłami. Co się sprawdziło a co nie wyszło. Co warto rozwijać z nadzieją że pomysł się rozwinie, a do czego już nie wracać.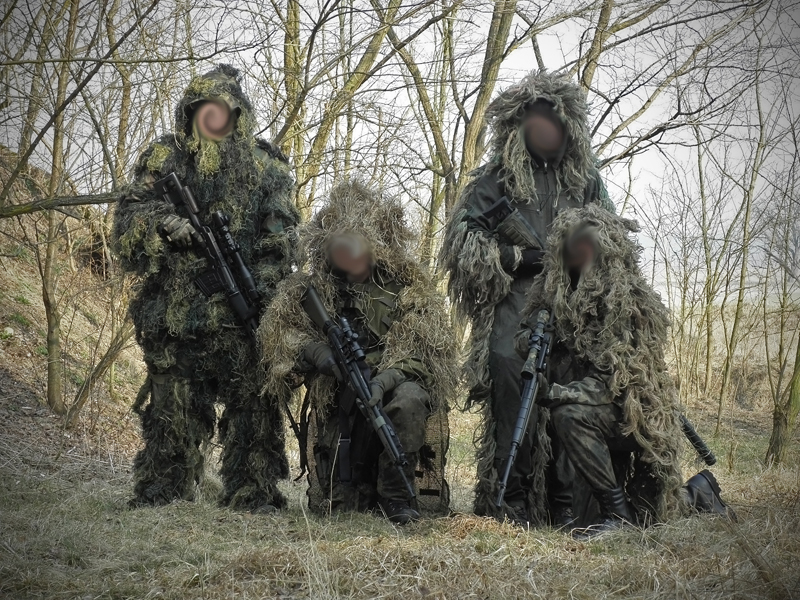 Przedstawiam listę moich pomysłów/patentów:

Pomysły nieudane:

Parawany - w zamyśle miały służyć do szybkiej budowy umocnień podczas treningów. Konstrukcja miała być lekka i możliwie wygodna w przewożeniu/przenoszeniu.
Powstały 2 sztuki takich parawanów wykonane z materiału we Flektarnie oraz palików na wzór parawanów plażowych. Ostatecznie parawany nie weszły do programu treningów. Były wykorzystanie w 1 lub 2 scenariuszach do zbudowania umocnień.

Lunetka golfiarza jako dalmierz - Do celowo gadżet ten stosuje się ponoć w grze w golfa do ustalenia odległości chorągiewki. U mnie miał być pomocny przy ustalaniu odległości do celu. Przydatne dla snajpera aby przed wystrzałem mieć pewność że możliwość trafienia jest >90%.
Mały lekki gadżet z funkcją przybliżenia x7.
Po zweryfikowaniu:
jako luneta średnio się nadaje obraz jest słabej jakości, nie mam możliwości sprawdzenia czy to naprawdę jest zbliżenie x7
Jako dalmierz, pierwszy problemem jest to że urządzenie podaje odległość w jardach, na metry trzeba sobie samemu przeliczyć, niby liczenia nie jest dużo ale w stresowym momencie może być ciężko.
Dalmierz od razu nie pokazuje wskazania, trzeba parę razy kliknąć i wybrać odpowiednią opcję.

Gamefinder - Urządzenie używają głównie amerykańscy myśliwi, aby zastąpić psa przy poszukiwaniu zranionej zwierzyny. Game Finder potrafi wykryć różnice temperatur w powietrzu. Miał być tańszą alternatywą termowizji, urządzenia pożądanego na milsimach.
Podstawową wadą Game Findera jest brak kamery, zamiast tego jest tam pasek diod przedstawiającą różnicę temperatur w badanym obszarze. Jest tam możliwość regulacji czułości czujnika, niestety trudno ustawić czujnik aby nie wskazywał przypadkowych odczytów, najbardziej się rozczarowałem kiedy przystawiłem rękę do czujnika i nie odrywając jej stwierdziłem że czujnik zarejestrował ciepło tylko na chwilę po czym ustawił się z powrotem na zero. Czujnik wykrywał temperaturę jak się nim poruszało. W ten sposób bardzo trudno rozróżnić prawdziwy sygnał od przypadkowego.
Wodery - z założenia miały być pomocne przy pokonywaniu większych rzek.
Jednak ze względu na ciągły brak miejsca w plecaku zrezygnowałem z nich na rzecz dużych worków foliowych które są lżejsze i zabierają mniej miejsca poza tym sprawdzają się także do innych celów.
Worki jednak do tego momentu nie zostały przetestowane przy przechodzeniu przez rzekę.
Pomysły jeszcze do rozważenia:
Izotonik za 50 groszy - Miał zastąpić kupny. Ma to sens kiedy z jakiś powodów nie możemy skorzystać z kupnego. Jego zaletą są łatwo dostępne składniki.
Zrobiłem sobie takowy na ostatni milsim, niby to dobre, chyba i zdrowe jednak następnego dnia smak był gorszy. Trochę się bałem sensacji żołądkowych bo nie wiem czy czasem to nie zaczęło się psuć czy fermentować i ostatecznie wylałem to.
Następnym razem zmodyfikuje lekko mieszankę.
Foliowy worek na zwłoki jako nocleg w lesie - Docelowo miało to być awaryjne bivi. Tanie, zajmujące mało miejsca i lekkie.
Podczas testów, można na tam bardzo szybko zapocić śpiwór. Trochę się obawiałem żeby samemu się tam nie udusić. Ostatecznie Da rade się w nim przemęczyć, podczas deszczowych nocy.
Nowe jego zastosowanie: pokrowiec dla sprzętu całego zespołu.
US worek na zwłoki jako nocleg w lesie - uwagi podobnie jak wyżej.
Z założenia przedmiot ten miał spełniać wiele funkcji : bivi, nosze, hamak
Generalnie worek zajmuje więcej miejsca niż się spodziewałem, waga jest średnia.
Jako bivi - spełnia się średnio, należy pamiętać że nie ochroni nas przed większym deszczem.
Jako nosze - lepsze takie niż żadne, trochę mało sztywne ale myślę że dały by radę
Jako hamak (nie do spania przez całą noc), najlepiej się sprawdził, ale myślę że podobnie by się sprawdziły małe siatkowe mieszczące się w kieszeni.
Projekt 1 oraz 2: Osobisty Zestaw Maskujący - z założenia doskonały projekt lekki, łatwo się go przenosi. Podczas testów wypadł pomyślnie.
Wadą tych zestawów jest to że efekt maskowania nie uzyskuje się natychmiastowo, należy go wcześniej przygotować. Z tego względu nadaje się na imprezy typu milsimy.
Do chwili obecnej nie został bojowo wykorzystany.
Pomysły które można uznać za udane:
Szelki krzyżowe - Początkowe wypatrzyłem je przy rosyjskich maskałatach. Jednak tamte są trudno dostępne i stosunkowo drogie. Potem przez przypadek znalazłem je przy

amerykańskim wyposażeniu

. Takie szelki zapewnią ci komfortowe uczucie, że spodnie nie spadną ani się nie zsuną.
Worki zrzutowe - ostatnio zabieram ze sobą 2 sztuki, jeden na magazynki drugi na inne rzeczy. Super sprawa kiedy jest stresowa sytuacja i chcę szybko pozbyć się np, noktowizora to nie majstruje przy ładownicy w kamizelkę tylko wrzucam bez zastanowienia do wora.
To jest takie awaryjne miejsce na wszystkie rzeczy które mogły by się nie zmieścić w 1,2 i 3 linii.
Przykładowo ubrałem się za ciepło (po nocy) i mogę bez problemy pozbyć się polaru.
Wada: trzeba uważać na umieszczenie worka, tak aby np, podczas biegu nie obijała nam się o kolano.
Stanik - jak na razie jestem jego gorącym zwolennikiem. Mało zajmuje podczas transportu, nie wiele mogę tam zmieścić ale dzięki temu nie mam możliwości zabrania zbyt wielu rzeczy na siebie.
Macie swoje pomysły/patenty?