Specjalsi pod Wawelem
Pierwszy raz w historii mieli na żywo pokazać, co potrafią. I pokazali. Na Wawelu, który na godzinę stał się poligonem, komandosi z Wojsk Specjalnych odsłonili część swoich tajemnic i zaprezentowali tysiącom widzów, na czym polega ich służba i jak walczą na misjach, np. w Afganistanie.
Brawa i okrzyki zachwytu było słychać w sobotnie popołudnie na Wzgórzu Wawelskim. Operatorzy ze wszystkich jednostek specjalnych: GROM-u, Jednostki Wojskowej Komandosów z Lublińca, AGAT-u, NIL-a i Formozy pokazali kunszt swoich wojskowych umiejętności. Ich zmagania obejrzało kilka tysięcy widzów, wśród nich mieszkańcy miasta, turyści i cudzoziemcy. – Takiego widowiska jeszcze pod Wawelem nie było. Przyszliśmy tu całą rodziną i jesteśmy zachwyceni – mówił jeden z krakowian.
Pokazy z okazji Święta Wojsk Specjalnych w rejonie Wzgórza Wawelskiego i Bulwarów Wiślanych w Krakowie, 25 maja 2013 / PAP
Obchody Święta Wojsk Specjalnych rozpoczęły się uroczystą zbiórką komandosów na placu Wielkiej Armii Napoleona w Krakowie. Po raz pierwszy w sześcioletniej historii polskich Wojsk Specjalnych jako odrębnego rodzaju sił zbrojnych operatorzy świętowali wspólnie poza murami swoich jednostek. W samo południe, po odegraniu hejnału mariackiego, rozpoczęła się ich uroczysta zbiórka. Żołnierze otrzymali odznaczenia i medale. Padły też ciepłe słowa od zaproszonych na uroczystość gości. – Wasze działania cechuje skrytość, a was samych niezwykła skromność. Żeby nigdy nie zabrakło wam żołnierskiego szczęścia – mówił podsekretarz stanu w MON Robert Kupiecki.
Pokaz specjalsów rozpoczął się od przelotu ośmiu samolotów PZL 130 ORLIK. Za nimi na wysokości zaledwie 300 metrów leciały samoloty, z których najczęściej desantują się komandosi: CASA, Hercules i Bryza.
Orliki nad Krakowem. / fot. Wojciech Matusik
Nagle padły strzały. Pierwsza do akcji wkroczyła Formoza. Komandosi płynęli po Wiśle łodziami operacyjnymi. Jest zimno, wieje wiatr, a woda, do której wskakują czterej z nich, ma zaledwie kilka stopni. Chwilę później z wysokości półtora kilometra do wody skaczą komandosi na spadochronach szybujących. – Brawo, chłopaki! Skok do Wisły na medal! – słychać w głośnikach głos zastępcy dowódcy WS płk. Jerzego Guta, który na bieżąco z entuzjazmem komentował to, co robią komandosi.

Pokaz nabiera tempa. Do boju ruszają komandosi z Lublińca. Z pokładu śmigłowca Mi-17 (7 Eskadra Działań Specjalnych) wyrzucają do wody łódź, a następnie czterech operatorów wskakuje do wody. Błyskawicznie rozkładają łódź, montują na niej silnik i odpływają.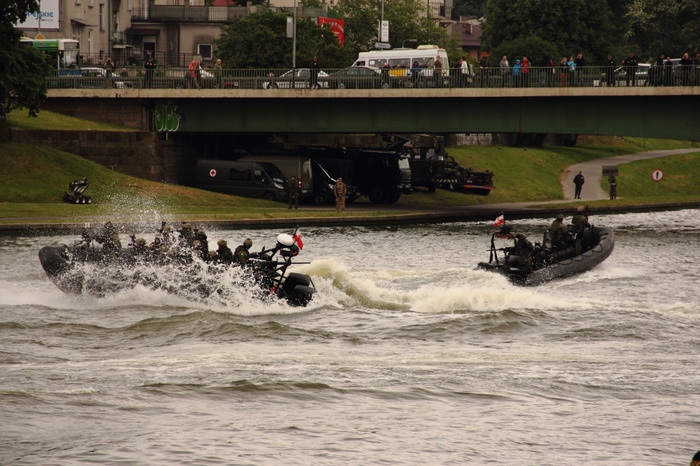 Pokaz na Wiśle. / fot. Miłosz Kluba / GN
Kolejne strzały padają na zakolu Wisły. Do płynącej barki szybko docierają "foki" z Formozy. Szturmują barkę. Atakują ją z wody i z powietrza. Muszą przejąć kontrolę nad statkiem i unieszkodliwić znajdujących się tam terrorystów. – Tak to się właśnie robi. Źli zostali pokonani – komentuje płk Gut.

Najtrudniejsza akcja jest jednak przed specjalsami. Tym razem muszą działać wspólnie. Na jednym z brzegów Wisły ukrywają się terroryści. Do boju rusza JWK, Formoza, AGAT i GROM. Dowodzi nimi specjals z Lublińca. Padają strzały, wybuchają granaty. – Tak właśnie wygląda współpraca wszystkich naszych jednostek. AGAT jest wsparciem na lądzie, Formoza osłania w wodzie, a do akcji wkracza Lubliniec – mówi jeden z oficerów.
Desant / fot. PAP
Po operacji komandosi zaczepieni pod śmigłowcem odlatują niepostrzeżenie. Ostatnie uderzenie wykonują jeszcze operatorzy GROM-u. Muszą zneutralizować materiał wybuchowy, który znaleźli przy rebeliantach. Robią to przy pomocy robota pirotechnicznego. Udaje się.

– Dzisiaj razem z żołnierzami innych jednostek specjalnych uczestniczymy w otwartym dla społeczności Krakowa szkoleniu wybranych epizodów operacji specjalnych. Otwarte szkolenie to forma naszej komunikacji ze społeczeństwem. Polscy podatnicy mają prawo wiedzieć, na co przeznaczane są ich podatki. Dzisiaj mogą dotknąć naszego wyposażenia i zobaczyć nas w akcji – mówił płk Wiesław Kukuła, dowódca Jednostki Wojskowej Komandosów z Lublińca.
fot. PAP
Dużym zainteresowaniem cywili cieszył się pokaz sprzętu i uzbrojenia. Każda z jednostek WS zaprezentowała swoje wyposażenie. Były to m.in. różnego rodzaju karabinki i karabiny (np. Barret M82A) i broń snajperów, granatniki, spadochrony, podwodne ciągniki (DPD), z których korzystają operatorzy Formozy.
Źródło: Polska-Zbrojna.pl