" First feeling " repliki PKM firmy A&K
MILO - BLACK WIDOW KOALICJA PÓŁNOC SŁUPSK

Lata świetlne minęły od czasu kiedy po raz ostatni na Ratsach opisywałem swoje pierwsze repliki. O ile mnie pamięć nie myli - ostatnie moje wypociny dotyczyły M60 z pod flagi P&J. Po długiej zatem przerwie ponownie siadam nad repliką karabinu maszynowego, tyle, że tym razem to produkt, który jest odwzorowaniem rosyjskiej myśli technicznej.

1) PUDEŁKO:
Szaro, nudno i buro.... Gdyby nie mała naklejka informacyjna, ciężko byłoby odgadnąć co jest w środku. Jedynie gabaryty pudła zdradzają, że nic z rodziny KAC PDW to raczej nie jest :)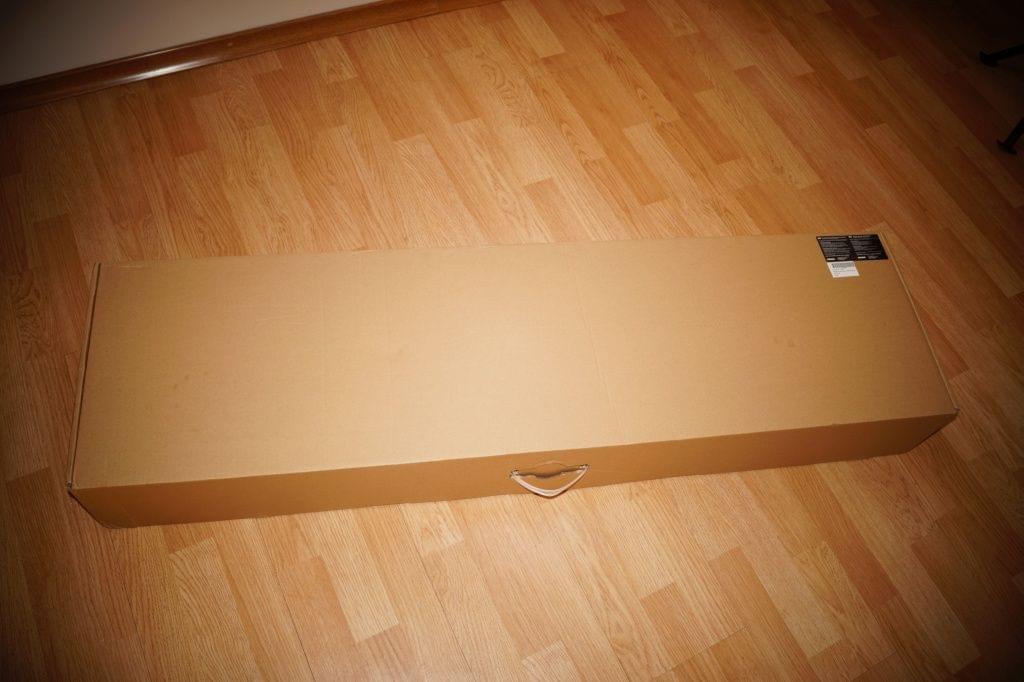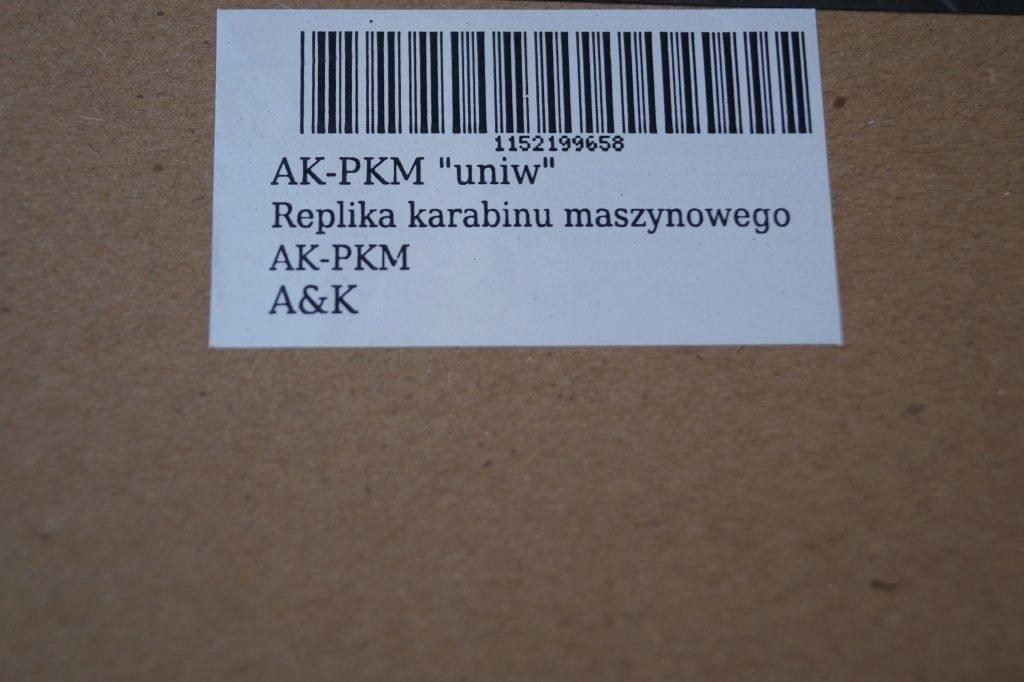 2) CO JEST W KOMPLECIE :

W środku znajdziemy replikę, baterię Nimh 8,4V, ładowarkę, magazynek ( box ) elektrycznie podkręcany, przejściówkę do ominięcia mosfetu no i oczywiście komplet dokumentów (gwarancja i instrukcja ale nie w języku polskim)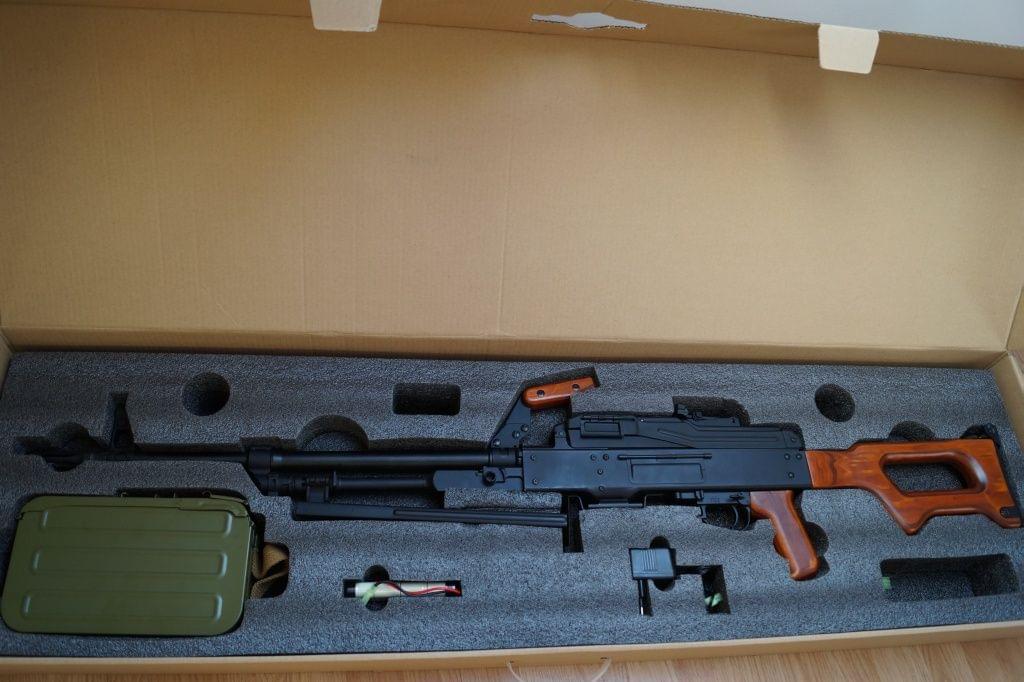 3) PKM SAM W SOBIE:

Pierwsze wrażenie gdy otwiera się pudło jest .. piorunująceeeee .. To naprawdę chinol ? Szybkie powierzchowne oględziny i nie zauważyłem większych baboli typu, zły odlew , źle nałożona farba itp.

Zatem....... TAK...... to chinol ale wykonany jedwabiście.

Zacznijmy więc na spokojnie oglądać tego kolosa od strony tłumika płomienia. Jak widać na poniższej fotce - nie ma do czego się przyczepić. Zarówno wykonanie jak i malowanie jest naprawdę świetne !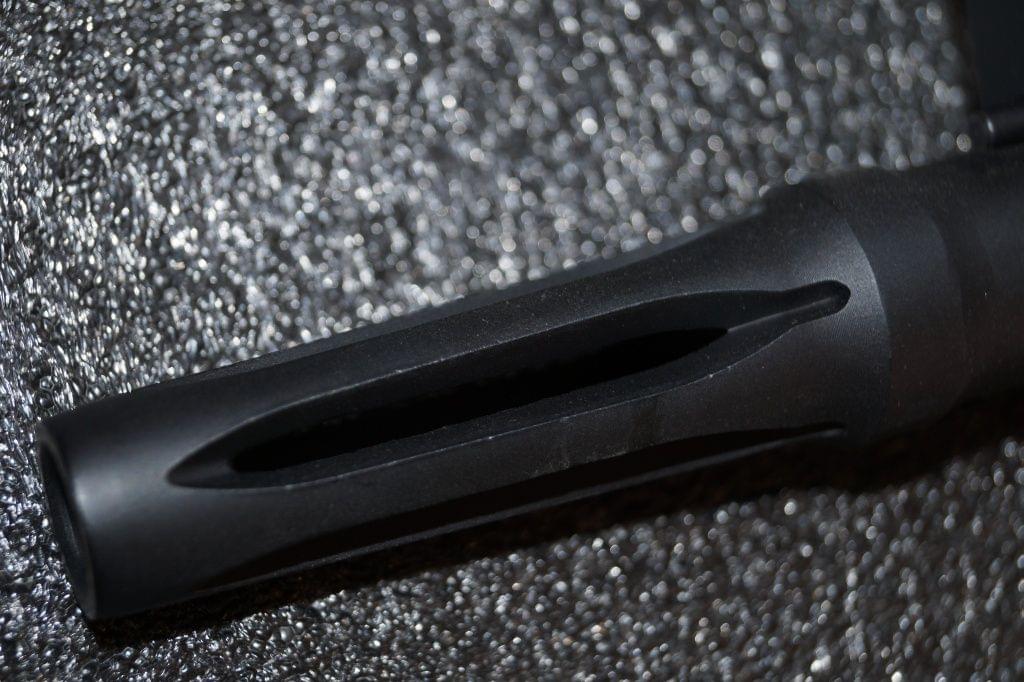 Muszka również wykończona niczego sobie a do tego jej podstawa "skołkowana" jest tam gdzie trzeba.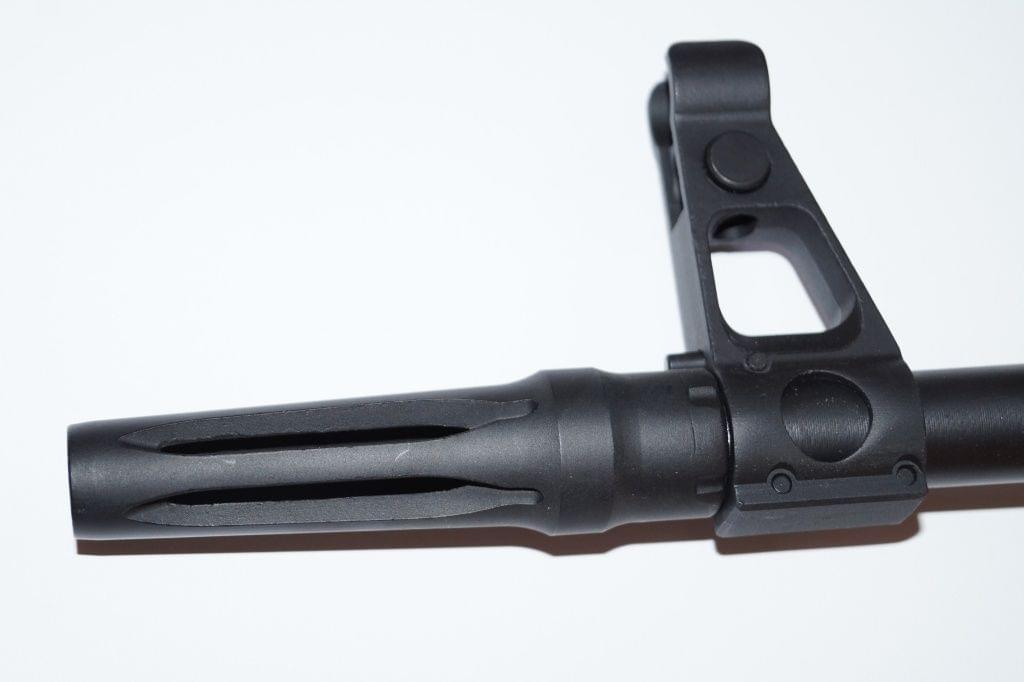 Idąc dalej widzimy regulator gazowy i jego trzy ustawienia tak jak ma to miejsce w palnej wersji: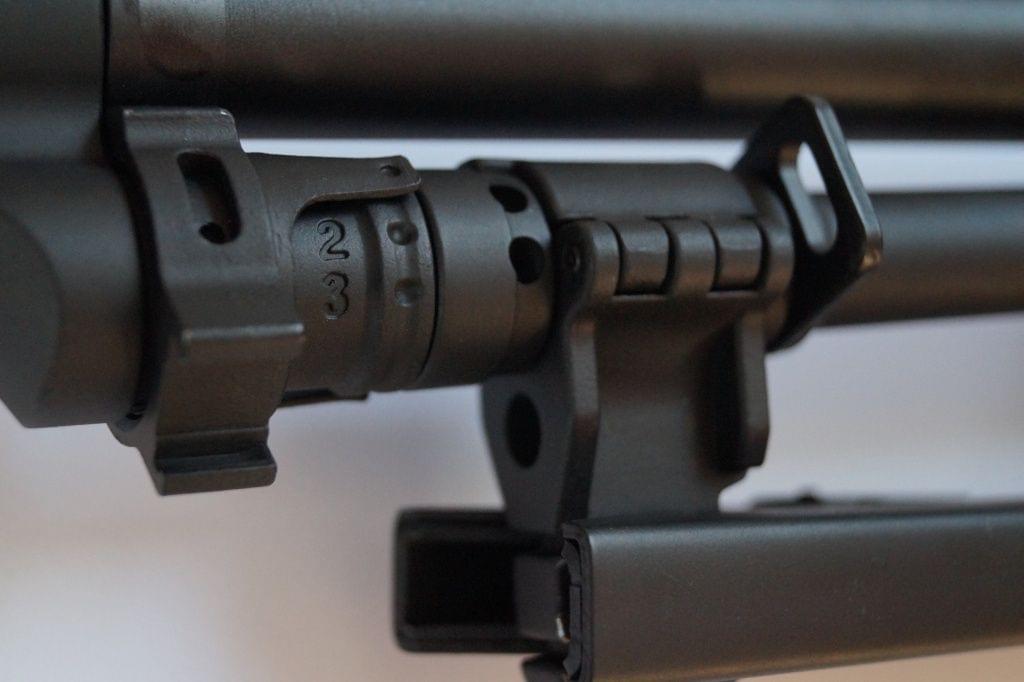 Tuż za nim zaczyna się mocowanie dwójnogu. Wspomnę tu, że jest to jedna z niewielu rzeczy, które mi się nie podobają w produkcie A&K. Nie chodzi mi o wykonanie, które wygląda na przyzwoite ale o fakt tego iż ma on jak dla mnie zbyt duże luzy w pozycji złożonej przez co w trakcie wymiany kompozytu będzie znacznie utrudniał chwyt karabinu no i będzie irytował "lataniem" na wszystkie możliwe strony.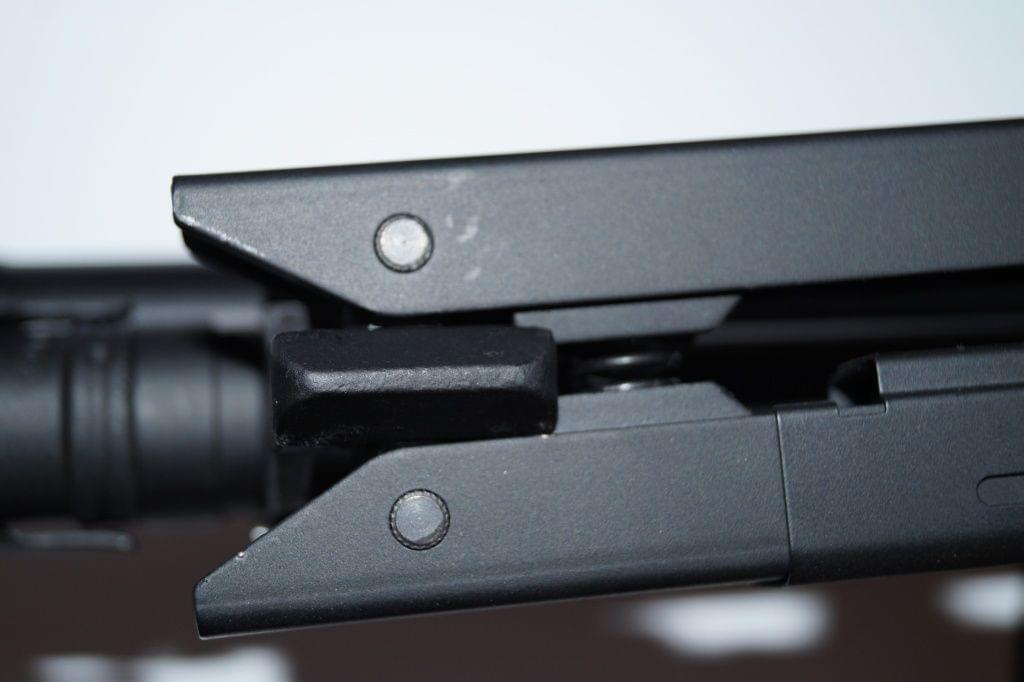 Sam dwójnóg rozpina się nieźle a za to wszystko odpowiada przyzwoita sprężyna: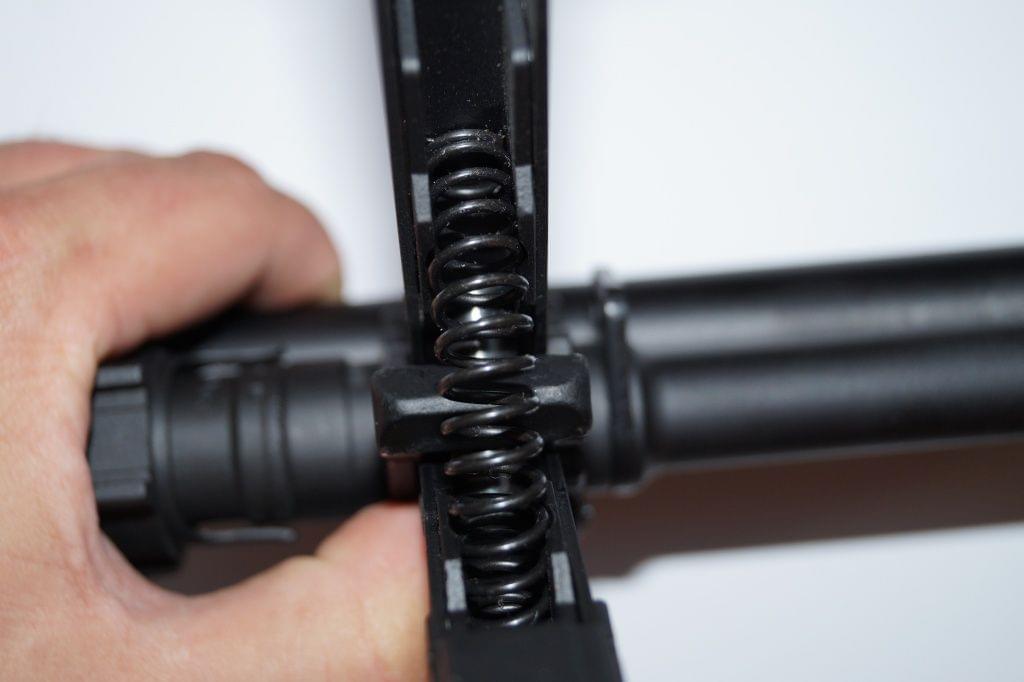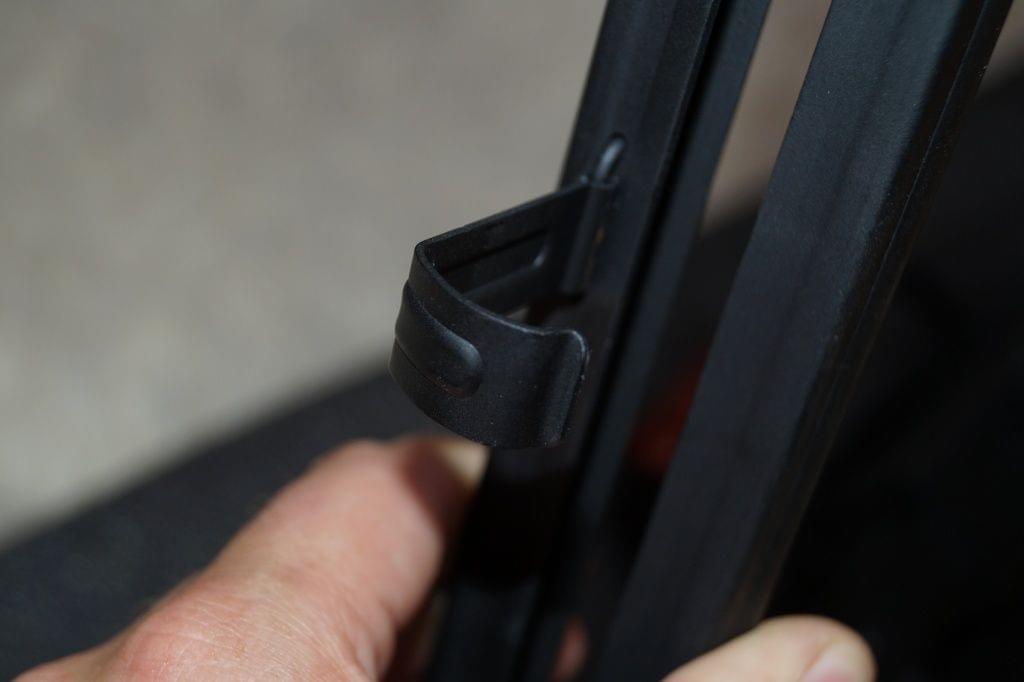 Następnym elementem, na który warto zwrócić uwagę to rura gazowa, gdzie zamontowano Mosfet i regulację szybkostrzelności. Jak dla mnie, takowa regulacja to zbędny bajer no ale jak jest to powinno się wiedzieć, że szybkostrzelność regulujemy naciskając odpowiedni guzik.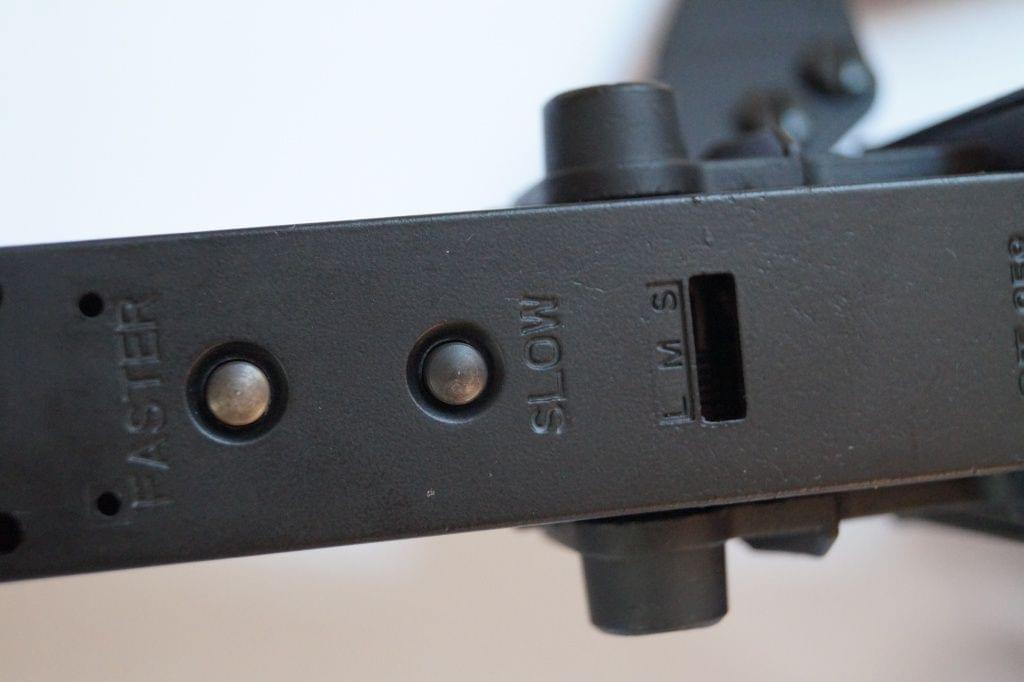 W przypadku tej repliki, rączka transportowa wydaje się być mocowana solidnie: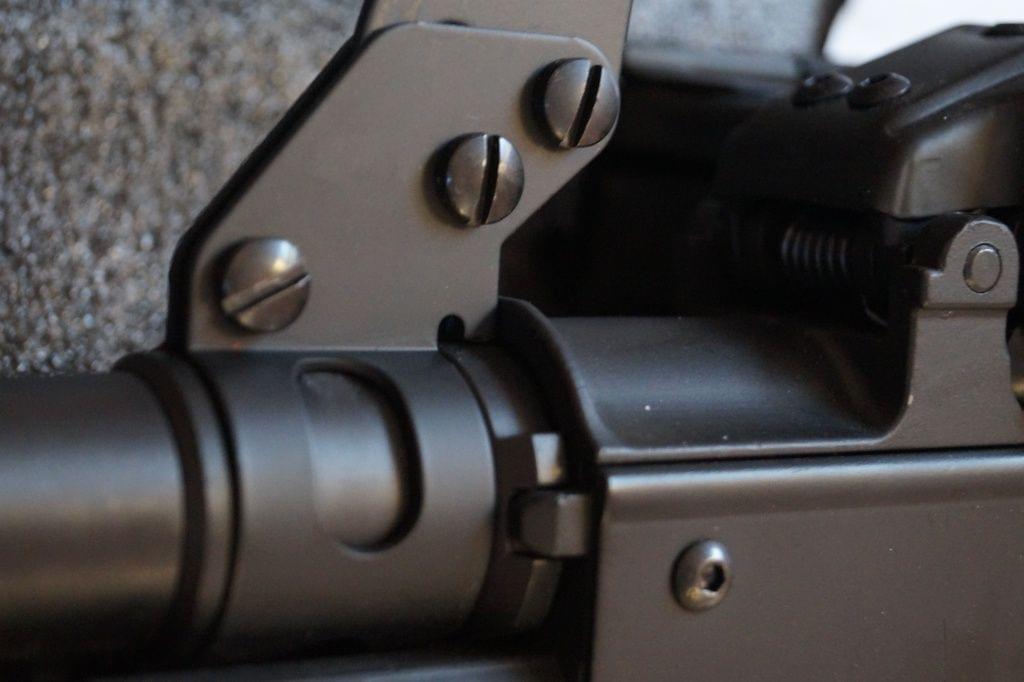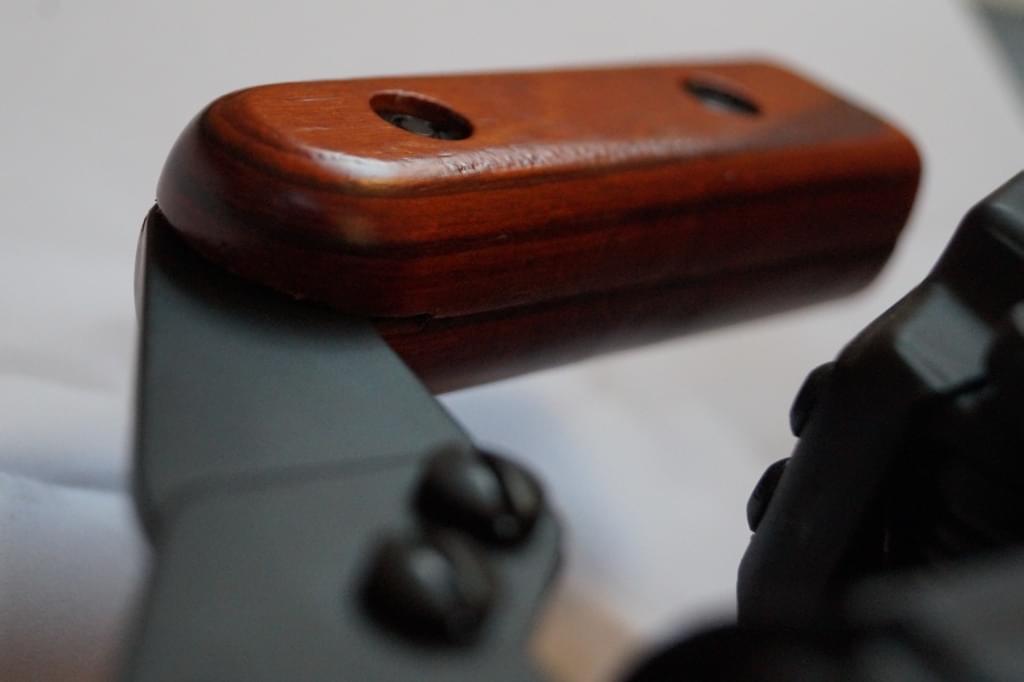 Na całej replice możemy odnaleźć kilka oznaczeń takich jak na fotkach poniżej: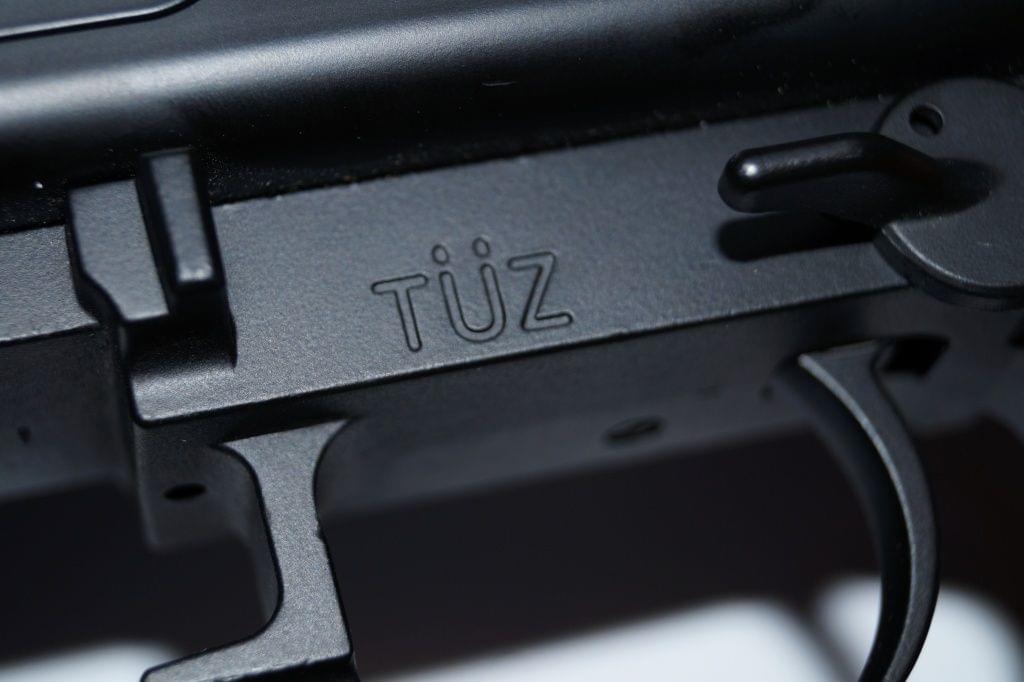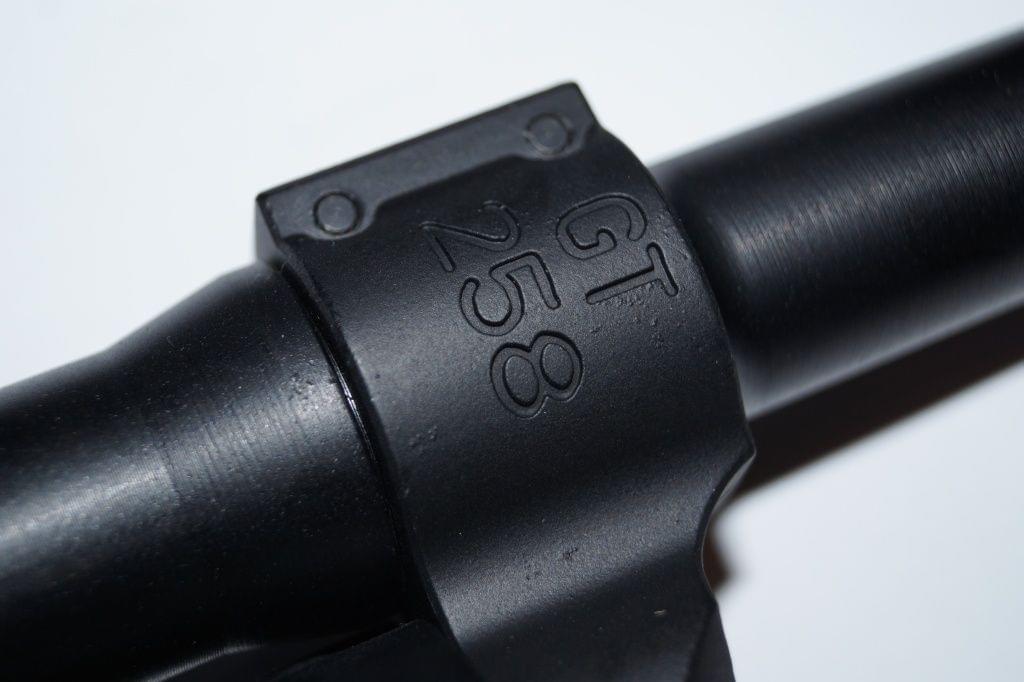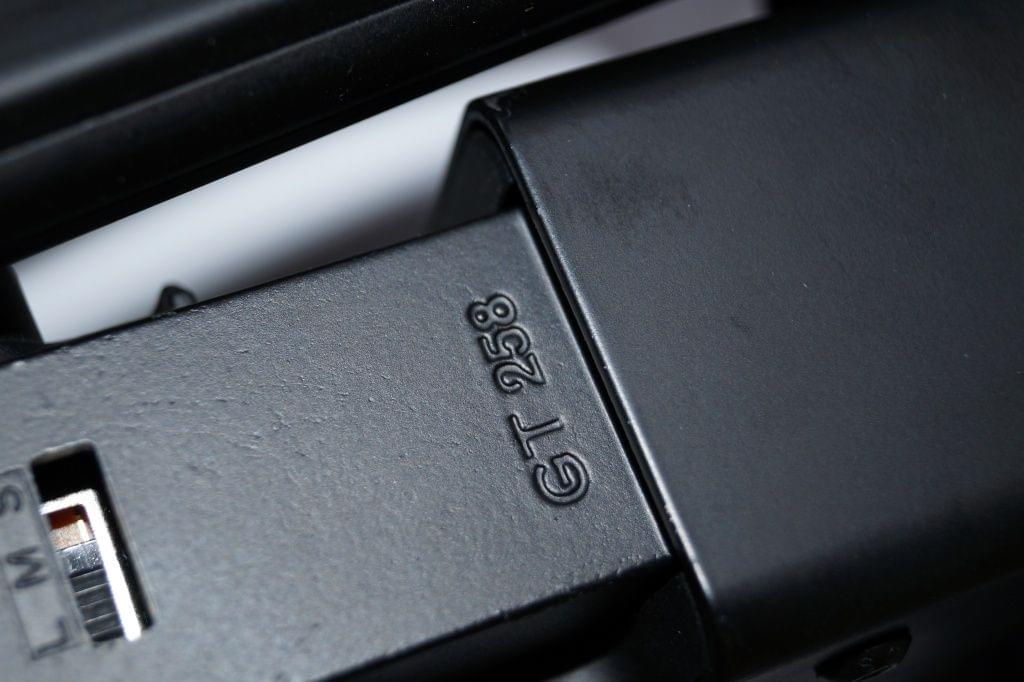 Na temat górnej pokrywy nie będę się wiele rozwodził... jest zrobiona kozacko a to będzie widać na fotkach w dalszej części tego opisu. Charakterystyczne jest tu zapięcie, które na pierwszy rzut oka ze strony zewnętrznej wydaje się podobne do tego z AK ale jak widać od środka, zbudowane jest nieco inaczej: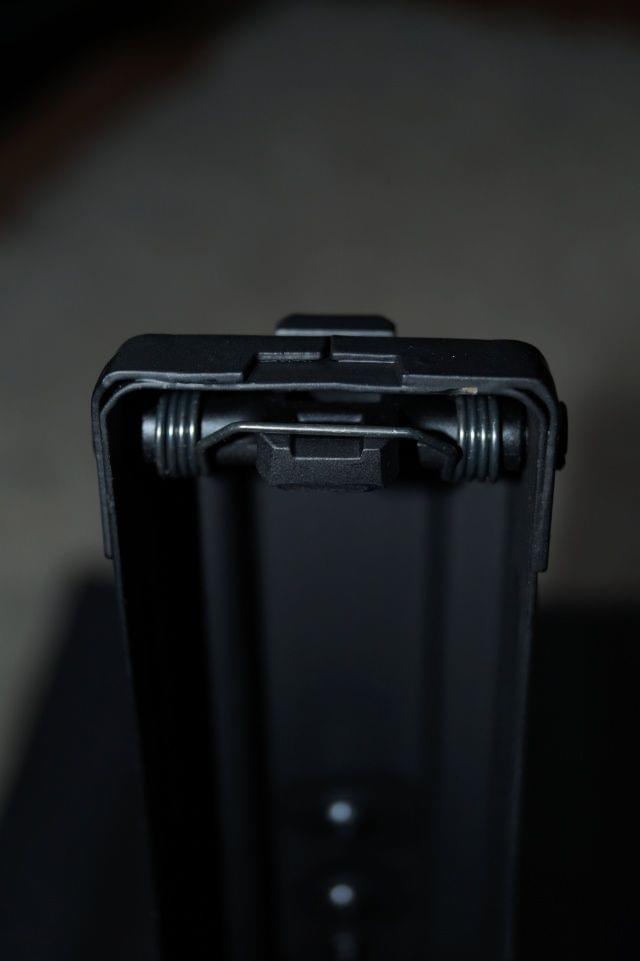 Nastawny celownik wykonany jest starannie, z dbałością o szczegóły. Nic tutaj nie lata. Wykonanie wzorowe !!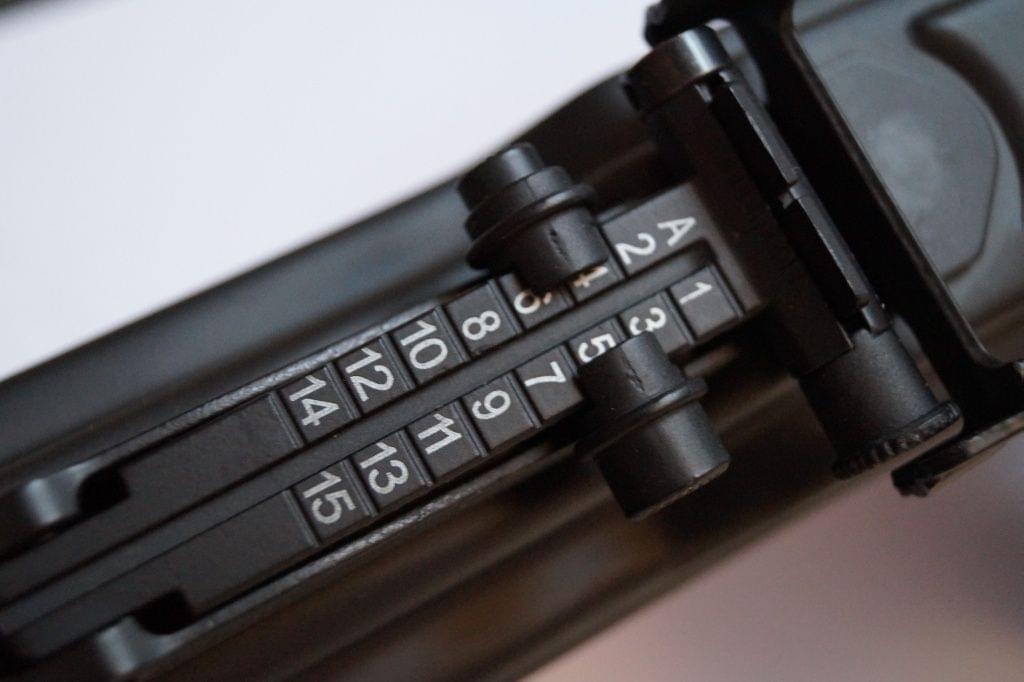 W środku widzimy Gearbox w wersji Long, znany między innymi z "bydlaczków" czy "świnek" typu M249 czy M60. Zatem o szkielet i jego pękanie nie powinniśmy się martwić, jeżeli myślimy przyszłościowo o jakimś mocnym tuningu.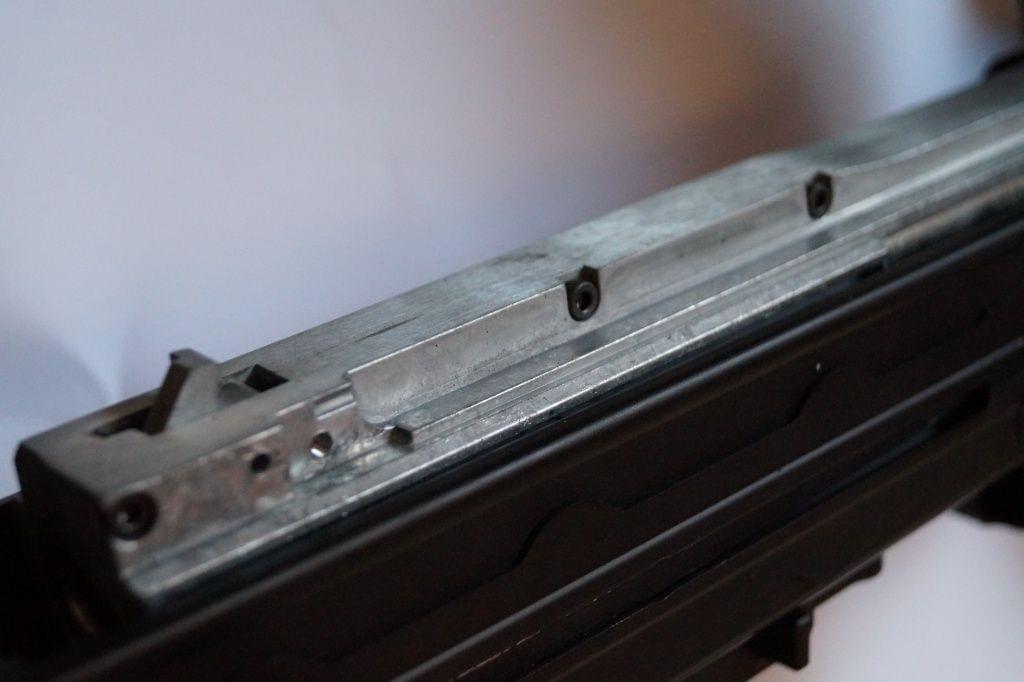 Charakterystyczną cechą tej wersji GB jest łatwy dostęp do zmiany sprężyny bez potrzeby otwierania całego mechanizmu.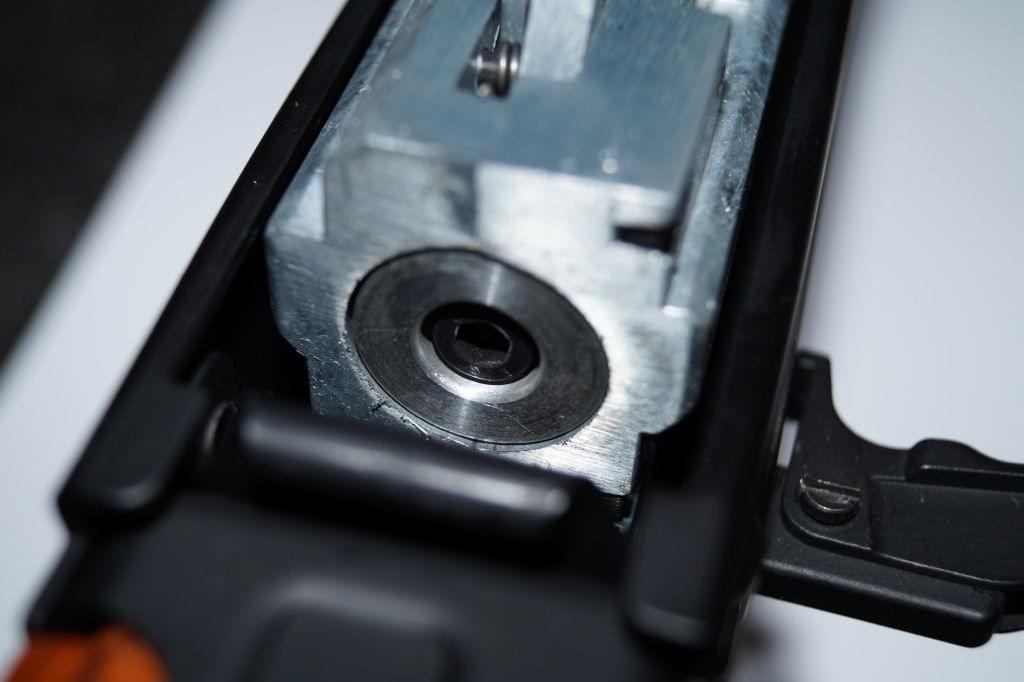 W tym jednak przypadku wydaje się to być niemożliwe gdyż Gearbox jest zbyt mocno cofnięty a samo zdjęcie kolby również nic nie daje ponieważ brakuje miejsca by wcisnąć palec, śrubokręt itp. Ze środka mamy wyprowadzone kable do baterii, podkręcania magazynka i plus spinający rurkowy bezpiecznik ( na fotce widać wtyk deans lecz fabrycznie replika posiada w tym miejscu wtyk typu tamiya ):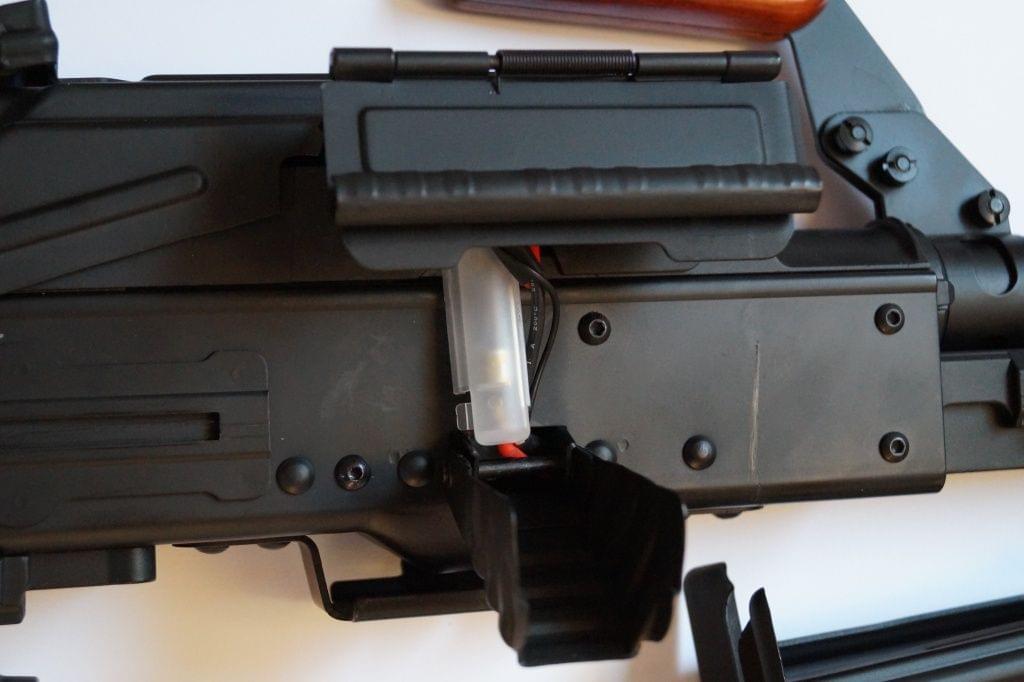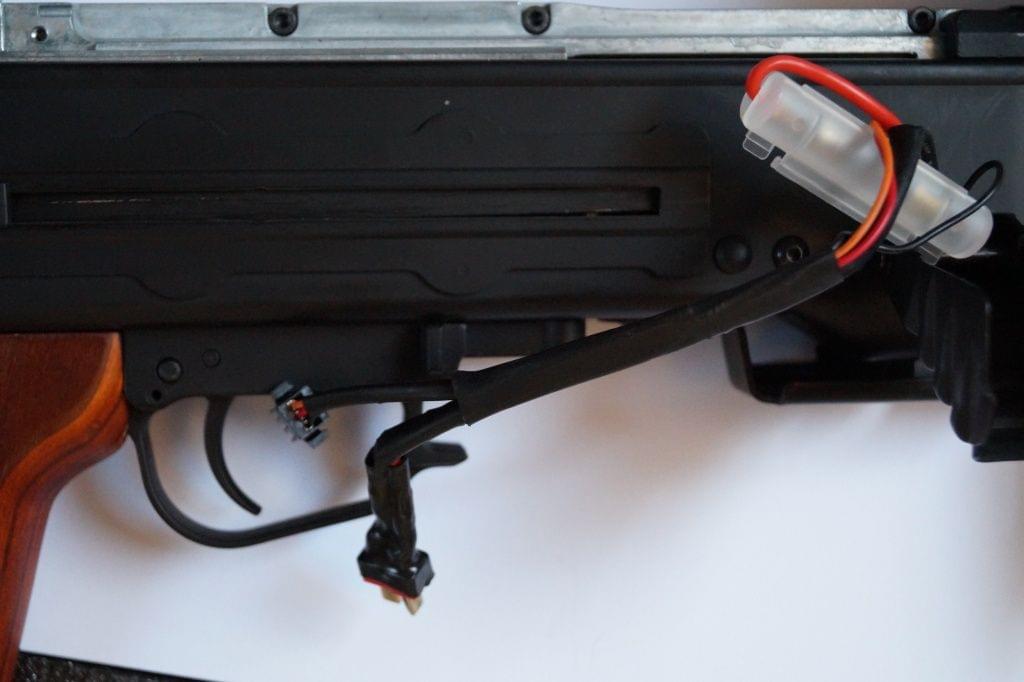 Komora Hop Up to dobrze znane rozwiązanie z innych "sawów" :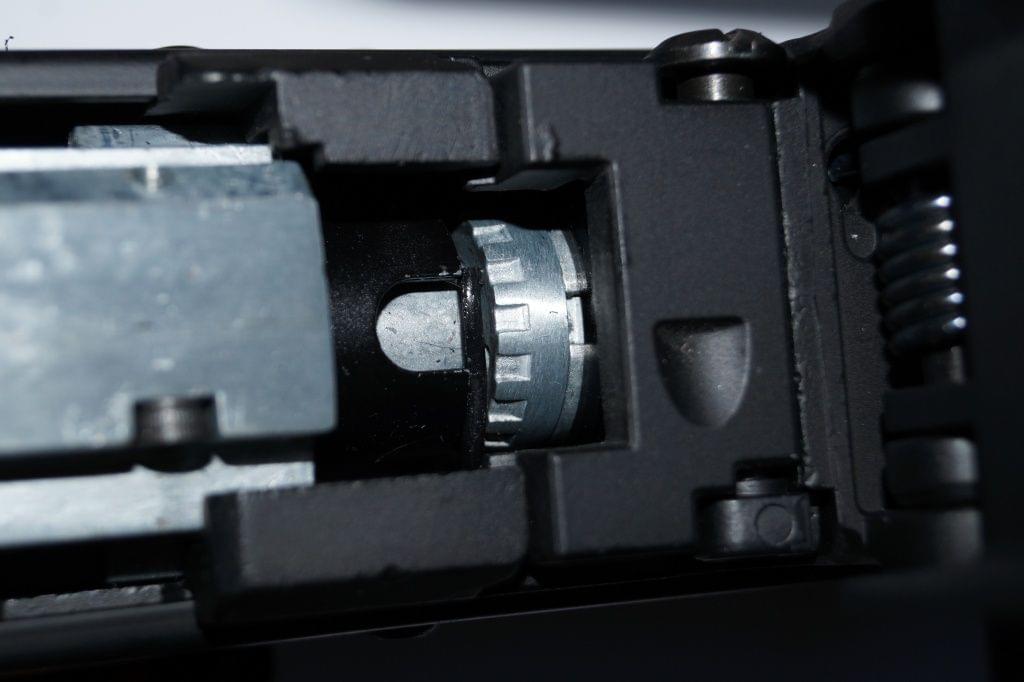 Spójrzmy nieco niżej odchodząc od mechaniki, skupiając się na walorach estetycznych repliki. Zdecydowanie w oczy rzuca się chwyt pistoletowy, który wykonany jest z drewna i w przeciwieństwie do np.: aeg'ów AK jest znacznie węższy ( jak to ma miejsce w wersji palnej ) gdyż w jego wnętrzu nie było potrzeby ukrycia silnika.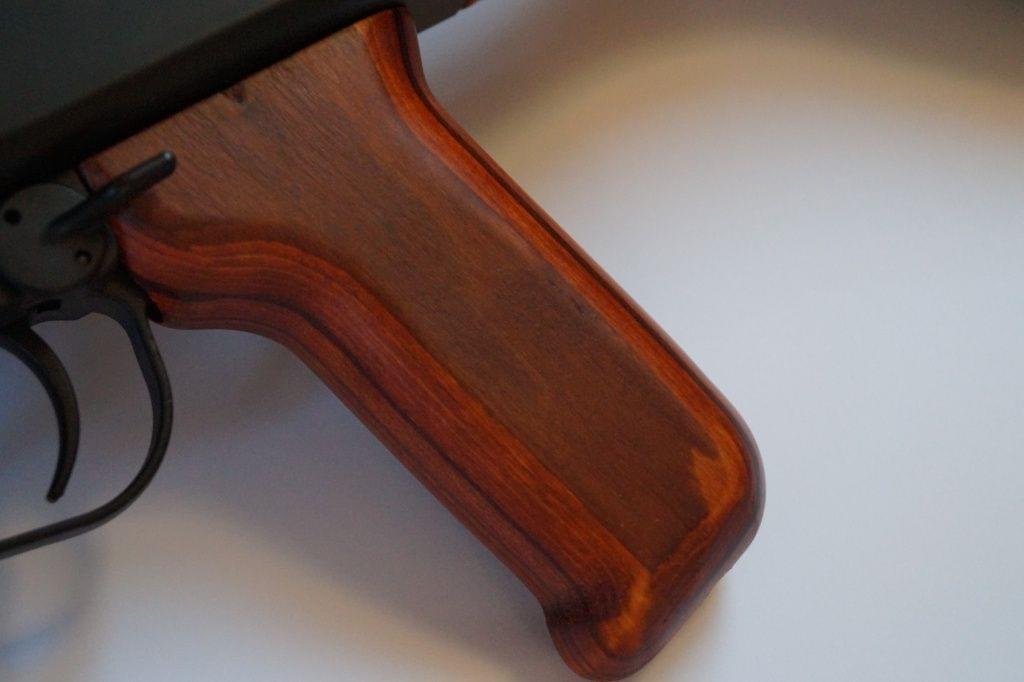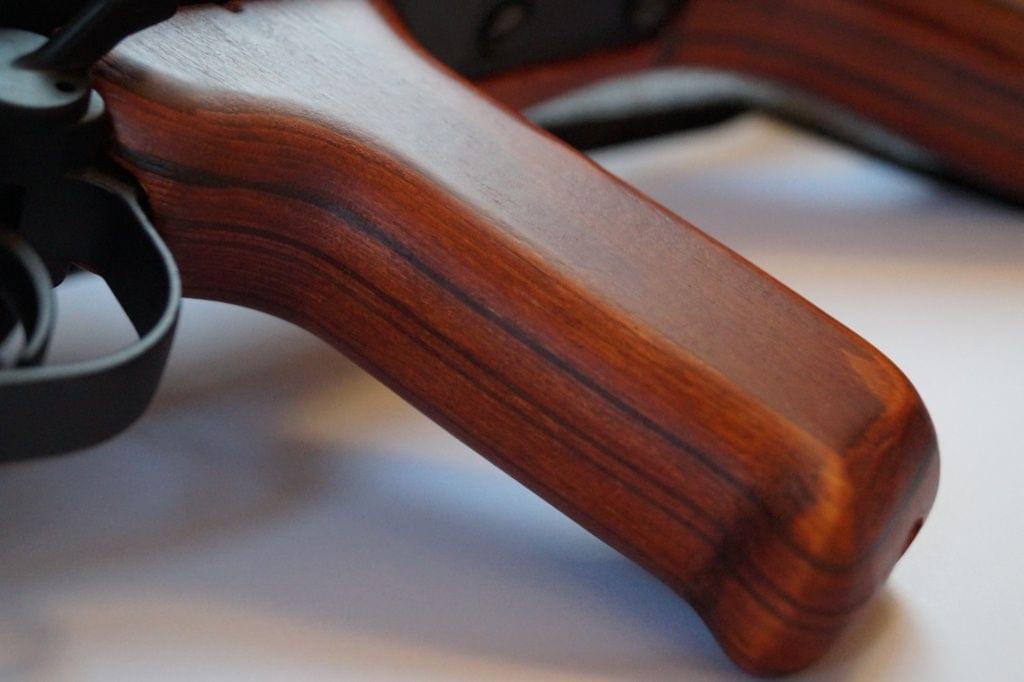 Analogicznie, z tego samego drewna wykonana jest kolba. Dodam,że wszystkie wspomniane elementy drewniane, mają jak dla mnie dosyć ciekawy czerwonawy kolor. Nic dodać nic ując - mimo iż to nie oryginał to zasługuje na potwierdzenie faktu, że wykonana jest baaaardzo starannie: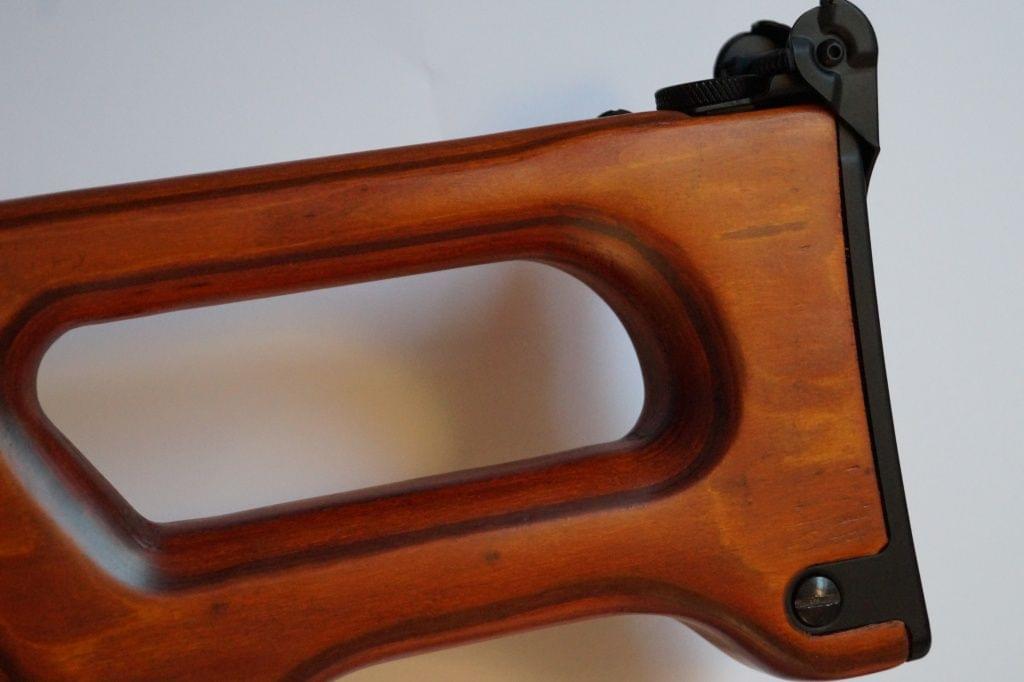 Stopka kolby jest metalowa i posiada rozkładaną oporę ramienną: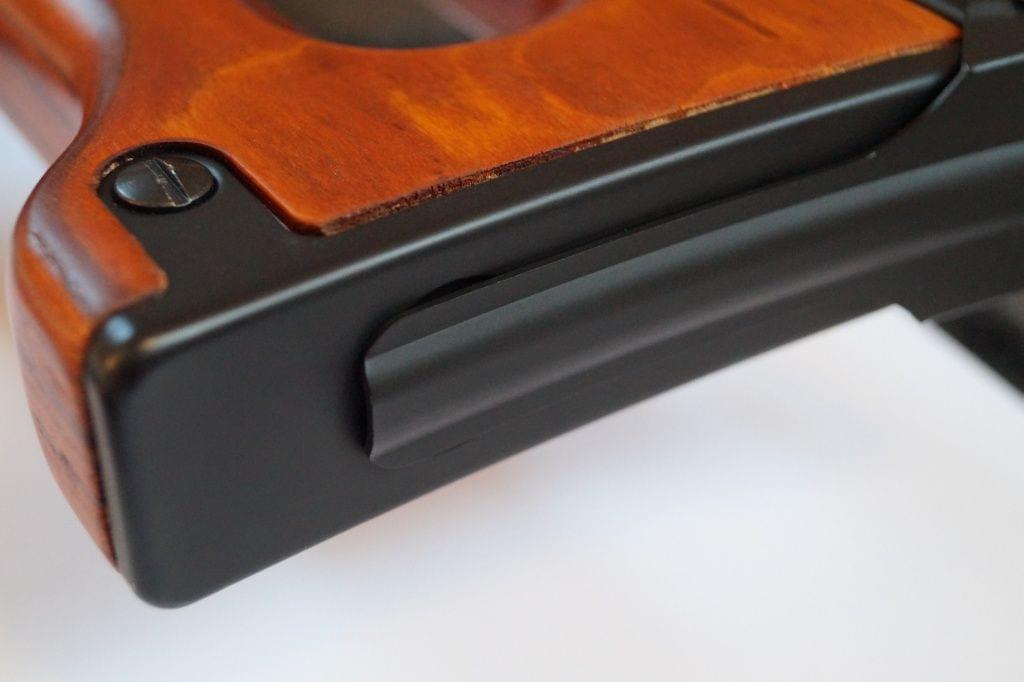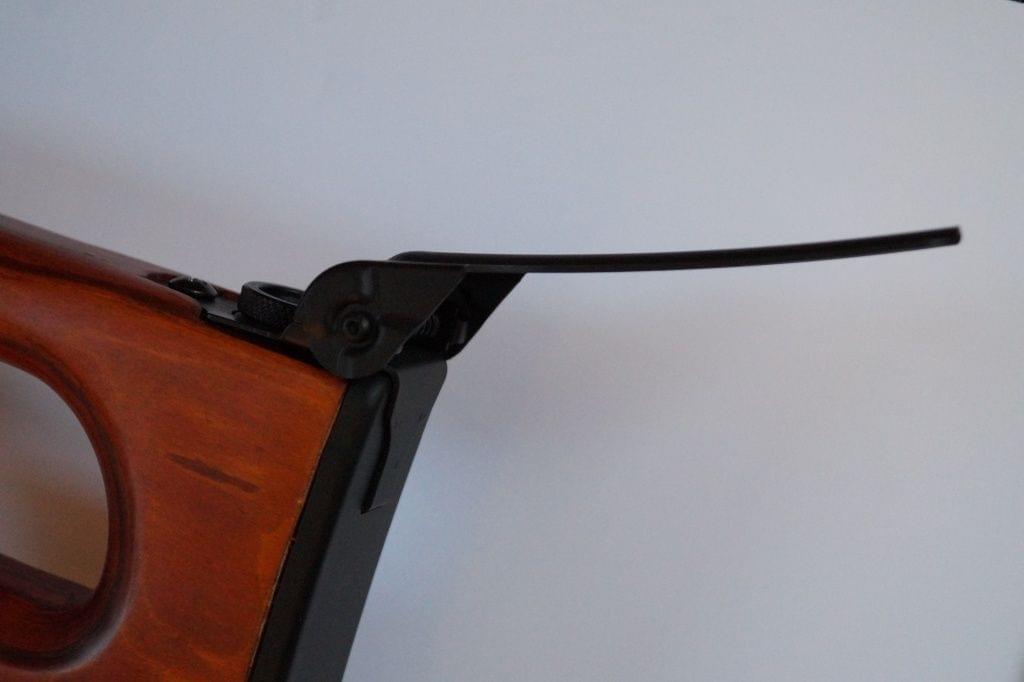 W miejscu gdzie powinna znajdować się smarownica, ulokowano kluczyk regulacyjny muszki: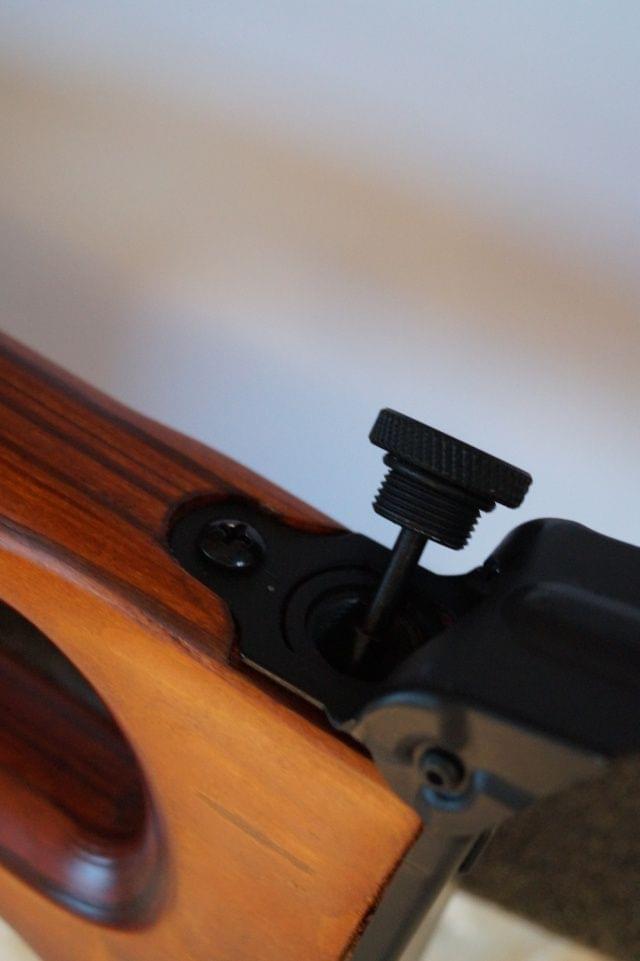 Kolba zamocowana jest solidnie i na obecną chwilę nie zauważyłem problemów typu luzy itp.

Selektor ognia znajduje się tylko po jednej stronie i posiada dwa tryby typu safe i auto. Wygląda tak: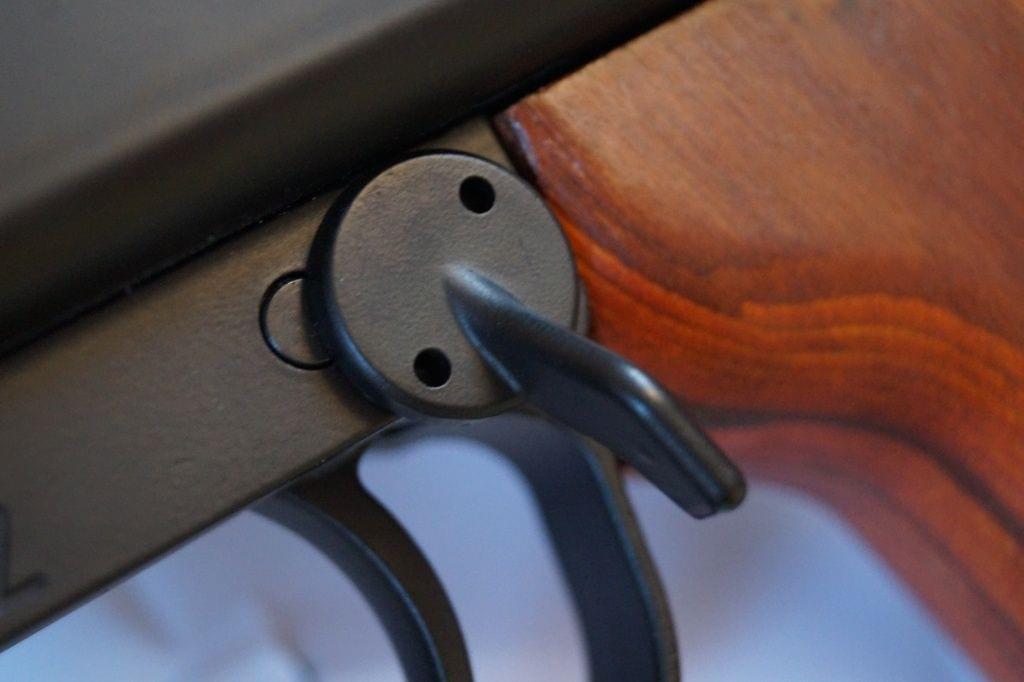 Po przeciwnej stronie mamy suwadło, które chodzi bezproblemowo i zamocowane jest bez użycia jakiejkolwiek sprężyny co objawia się tym, że suwadło nie cofa się do pozycji początkowej tylko zostaje w tym miejscu gdzie je puścimy: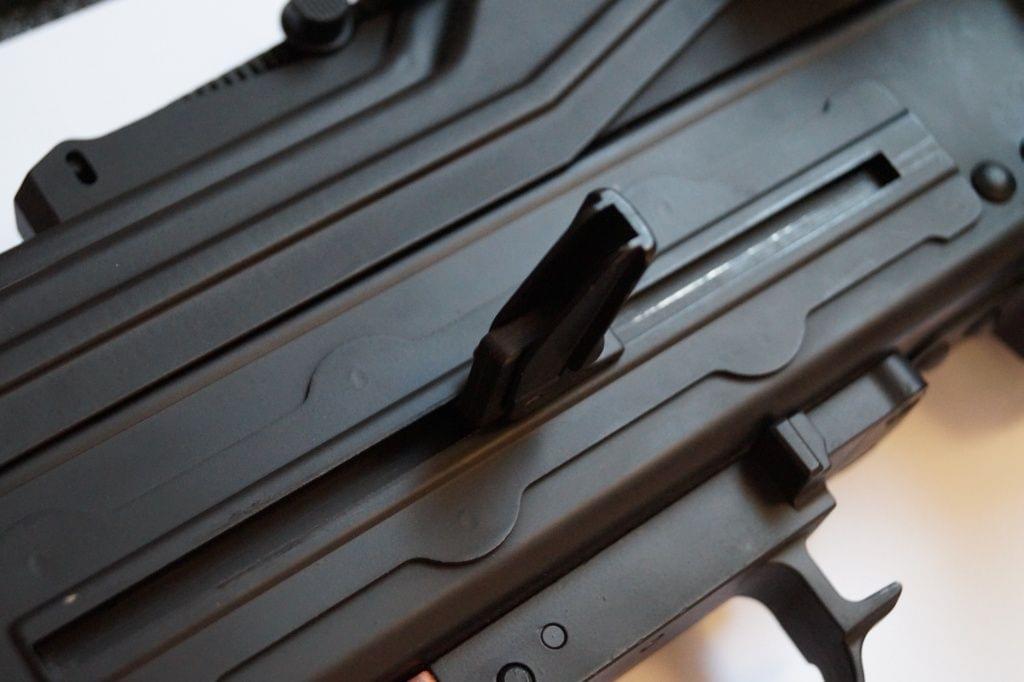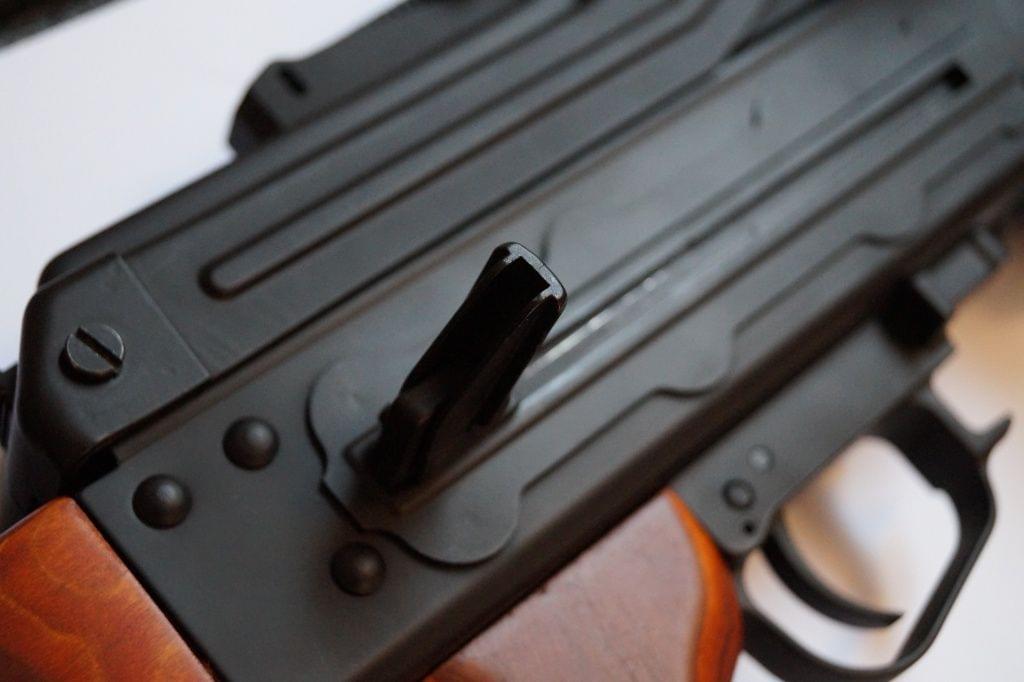 W miejscu wyrzutnika łusek, gdy otworzymy klapkę, ujrzymy ściankę gearboxa.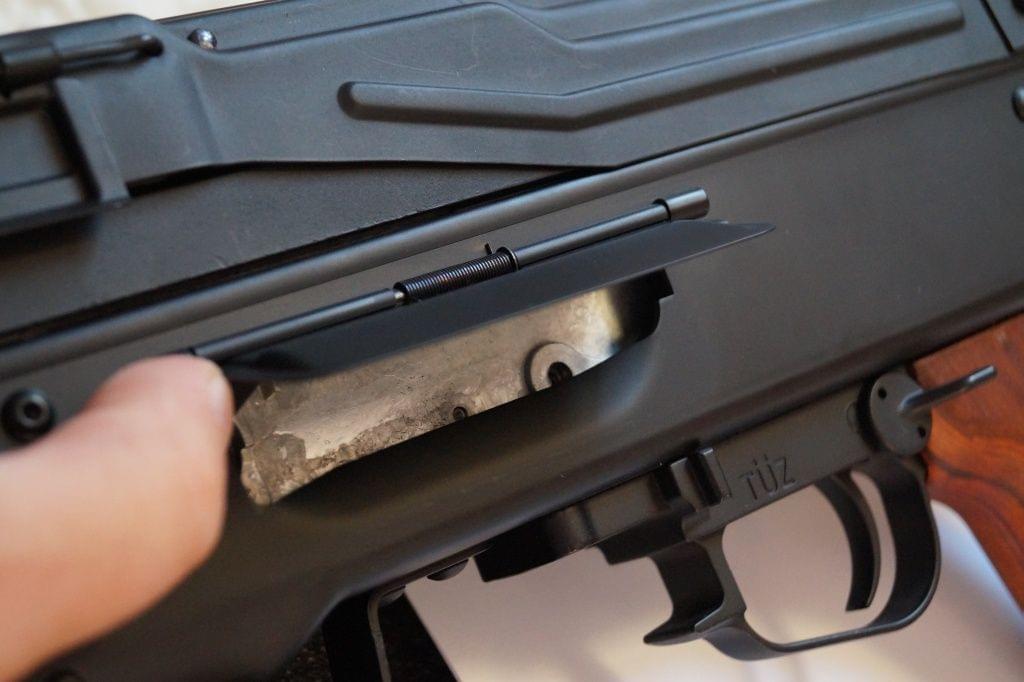 Od spodu widać gniazdo magazynka. Solidne wejście pod maga przypomina wspawaną nakrętkę: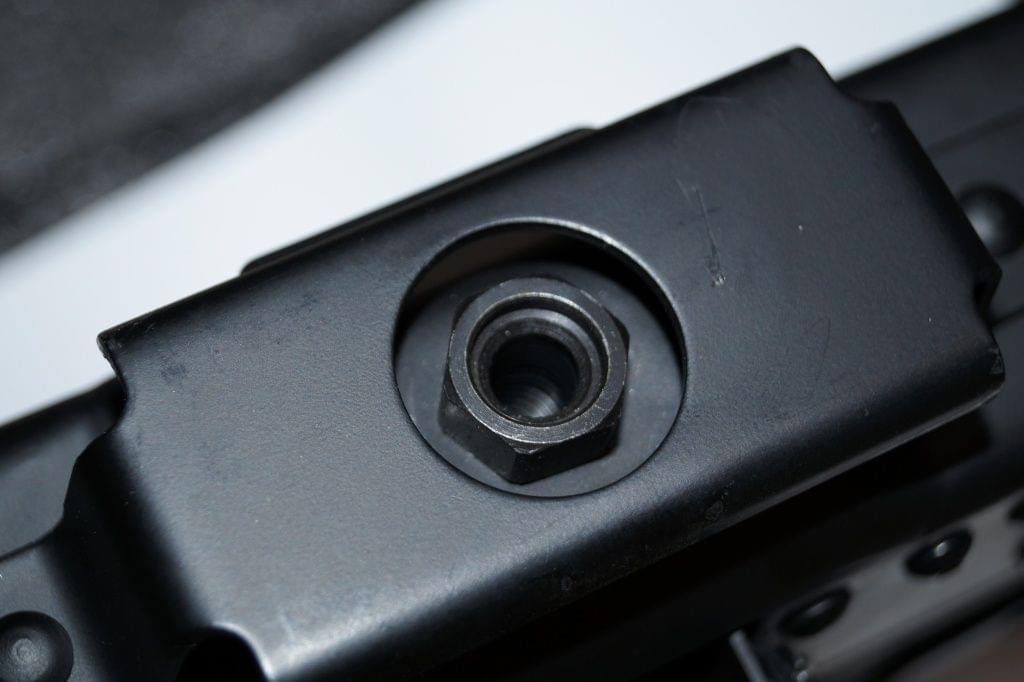 4) MAGAZYNEK:

Opisując wcześniejsze repliki, raczej nie było potrzeby aby zatrzymywać się i rozpisywać w tym dziale. Tym razem będzie jednak inaczej gdyż zdecydowanie jest na co popatrzeć.

Magazynek już po otworzeniu pudełka wywołuje uśmiech na twarzy. Jeszcze lepiej jest gdy się go wyciągnie i zobaczy, że jego wykonanie i kolorek są fantastyczne. Wykonany jest z metalu i mieści w swoim wnętrzu 5000 kulek: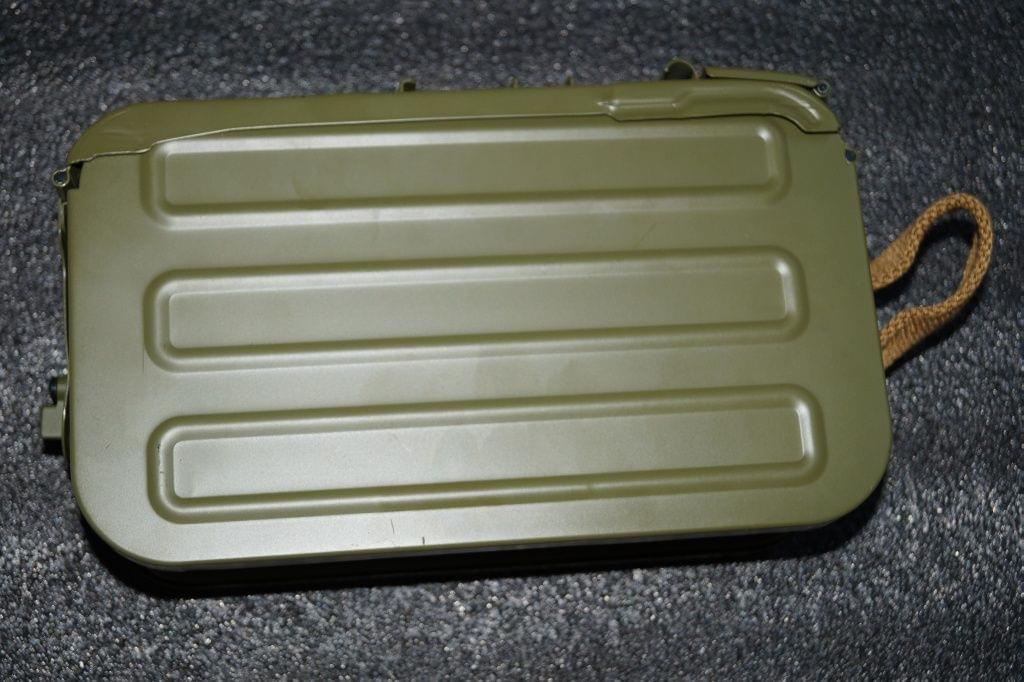 Od spodu mamy przełącznik, którym ustawiamy czy mag ma podawać kompozyt przez spust czy podawać go bez przerwy.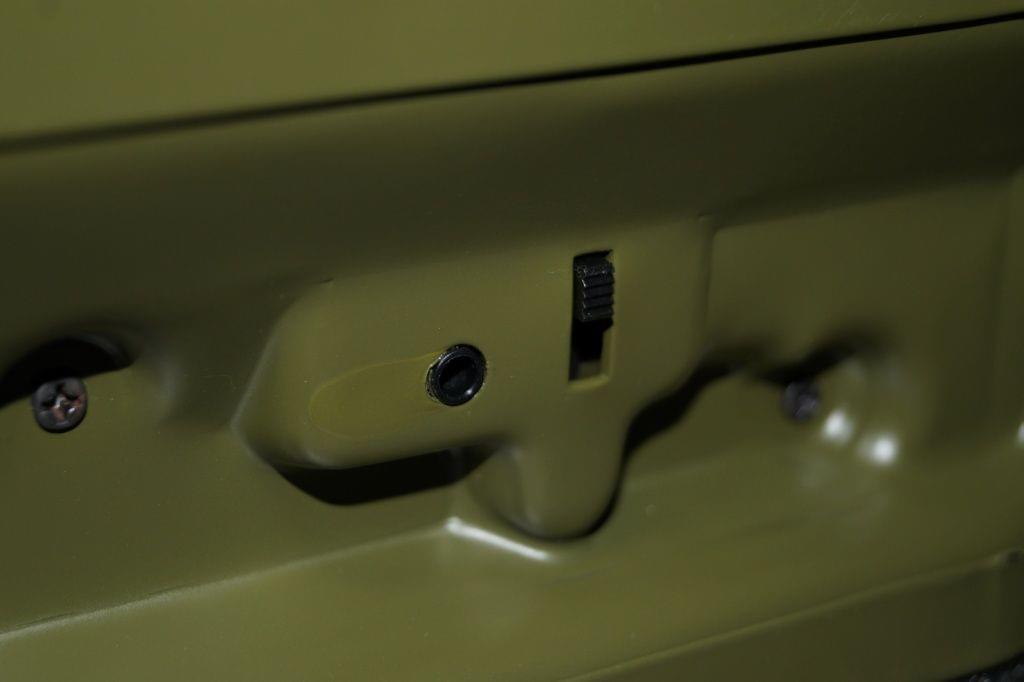 Chcąc wsypać kulasy musimy magazynek otworzyć z boku zwalniając dźwigienkę dociskającą klapkę: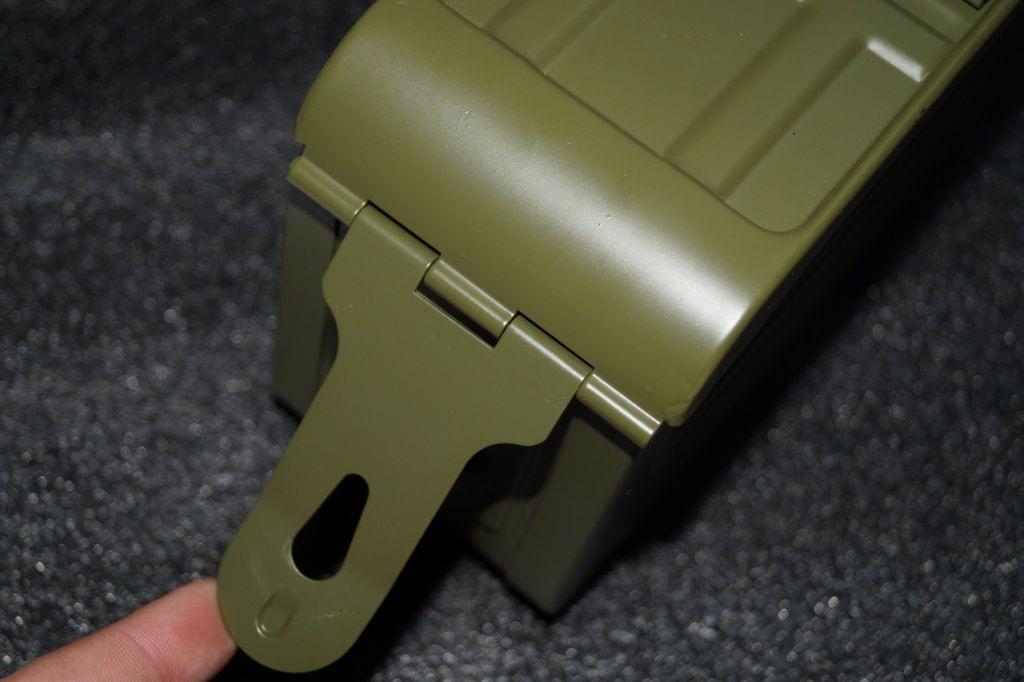 A tak box wygląda z góry: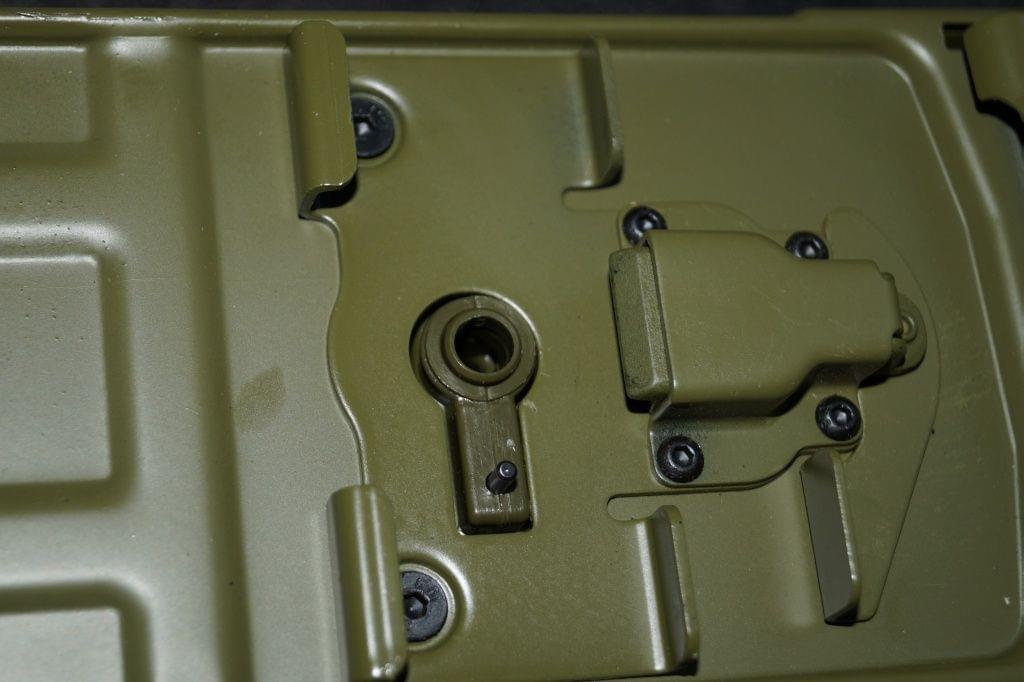 Po prawej stronie mamy klapkę, po której otworzeniu ujrzymy dwie komory - jedna na batkę i przewody a druga poglądowa na ilość kompozytu w magu. Co ciekawe - komora na batkę chroniona jest dodatkową klapką. Po co ? Nie mam zielonego pojęcia, tym bardziej, że komora druga nie posiada takiego rozwiązania: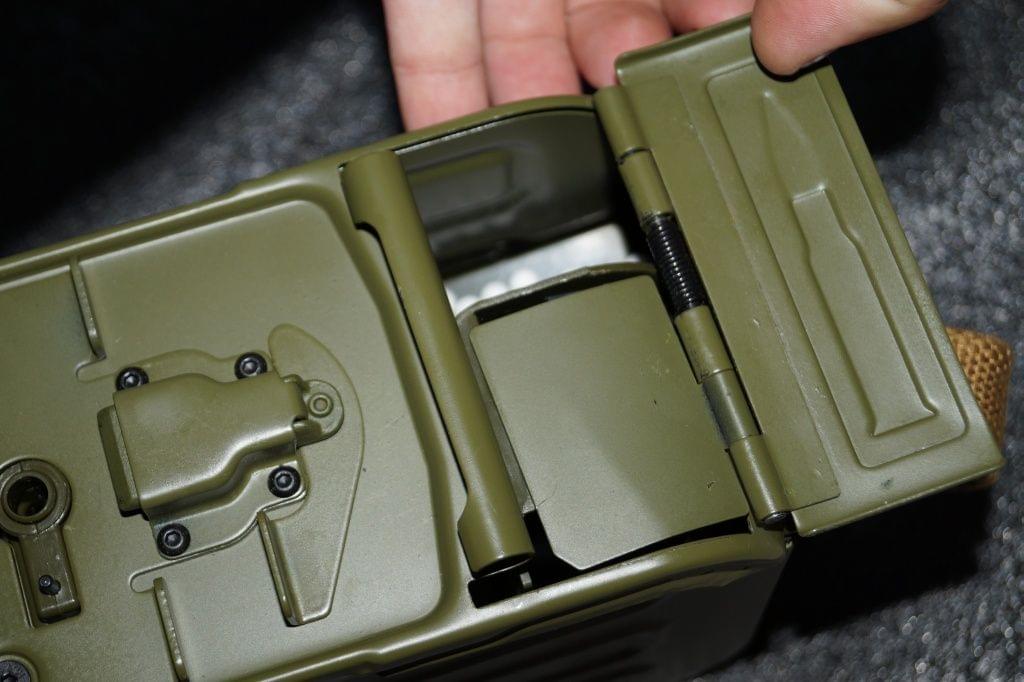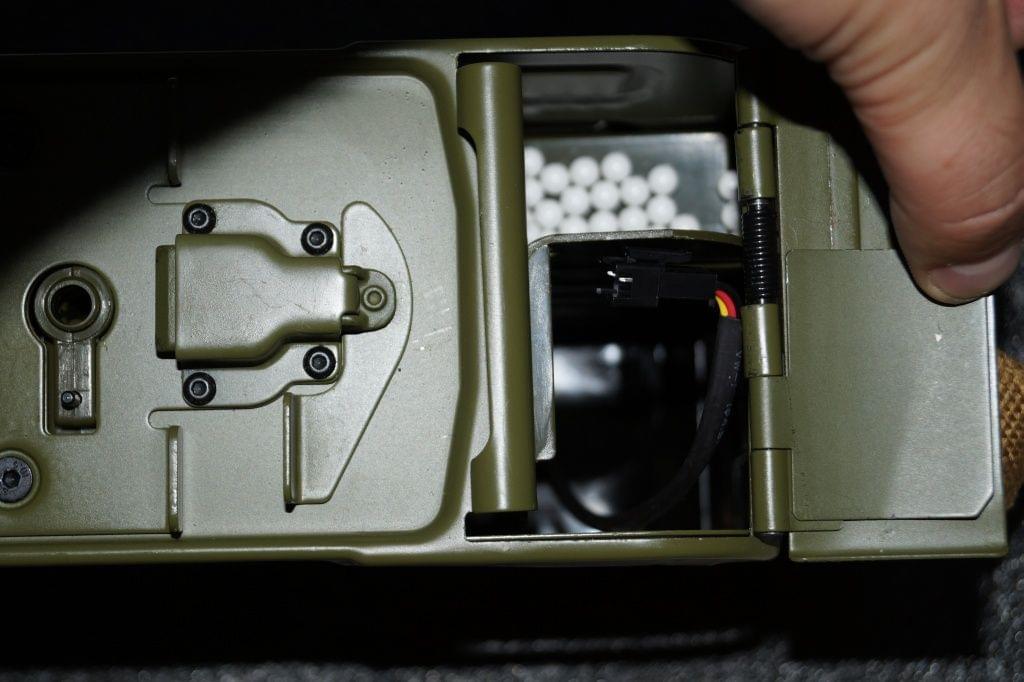 Ciekawostką również jest droga, jaką transportowane są kulki z maga do komory. Do tej pory w boxach spotykało się rurkę, która była koszmarem wielu z nas. Tym razem postawiono na plastikowy tunel co wydaje się być rozwiązaniem trwalszym i mniej stresującym dla użytkownika: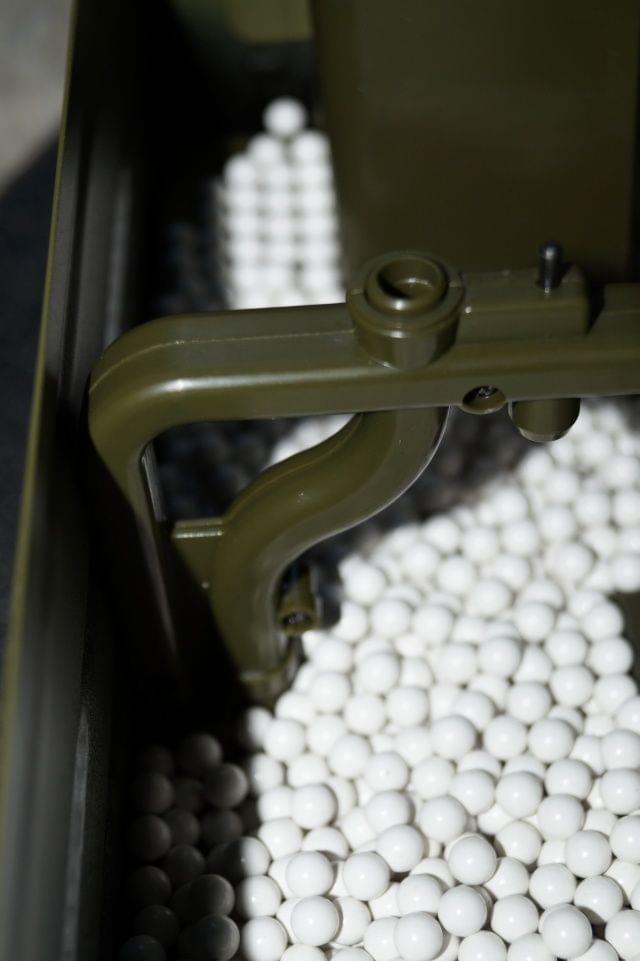 Podsumowując temat magazynka to przyznać trzeba, że oprócz tego iż wykonano go z wielką starannością to dodatkowo zastosowano niekonwencjonalne rozwiązania wewnątrz, które mają ułatwić życie airsoftowym graczom.

5) BATERIA:

Jak pisałem na wstępie to chiński Nimh 8,4V i nie ma nad czym się rozwodzić. Warto więc pomyśleć o wymianie baterii na chociażby 9,6V lub lipola 7,4V czy 11.1V. W magu zmieści się np:. lipo GE 11.1V 2800 mAh

6 ) JAK TO STRZELA:

Nadszedł czas aby schronować replikę. Tu wielkie podziękowania dla sklepu JAR-MIX MILITARIA za użyczenie chrono X-cortech.

Hop Up oczywiście skręcony na zero. Kulki 0,2g G&G :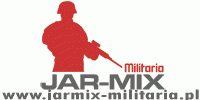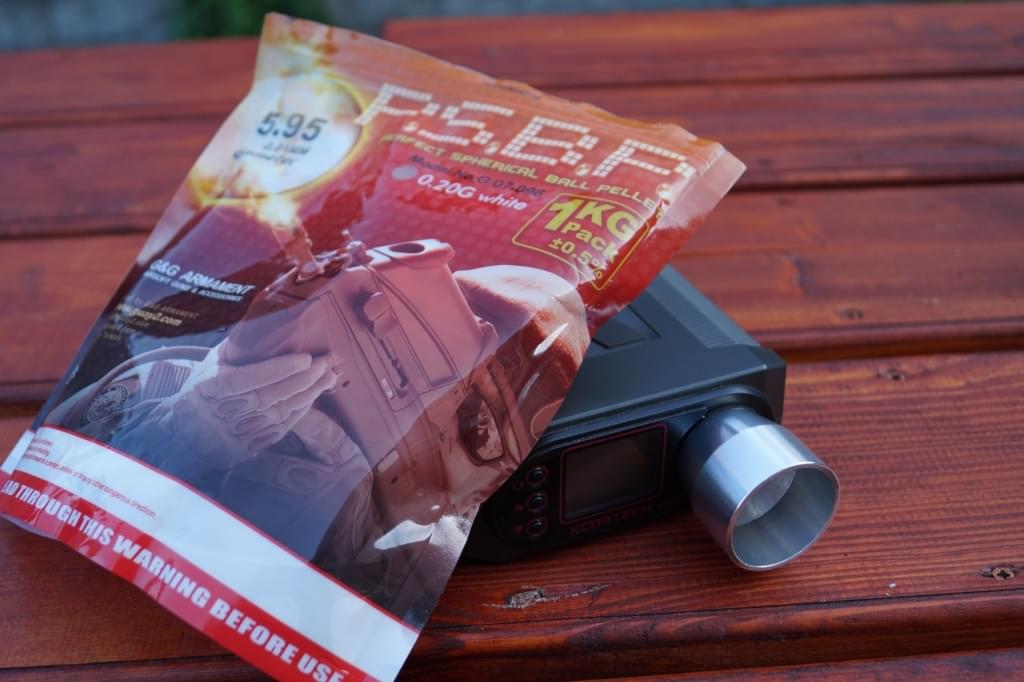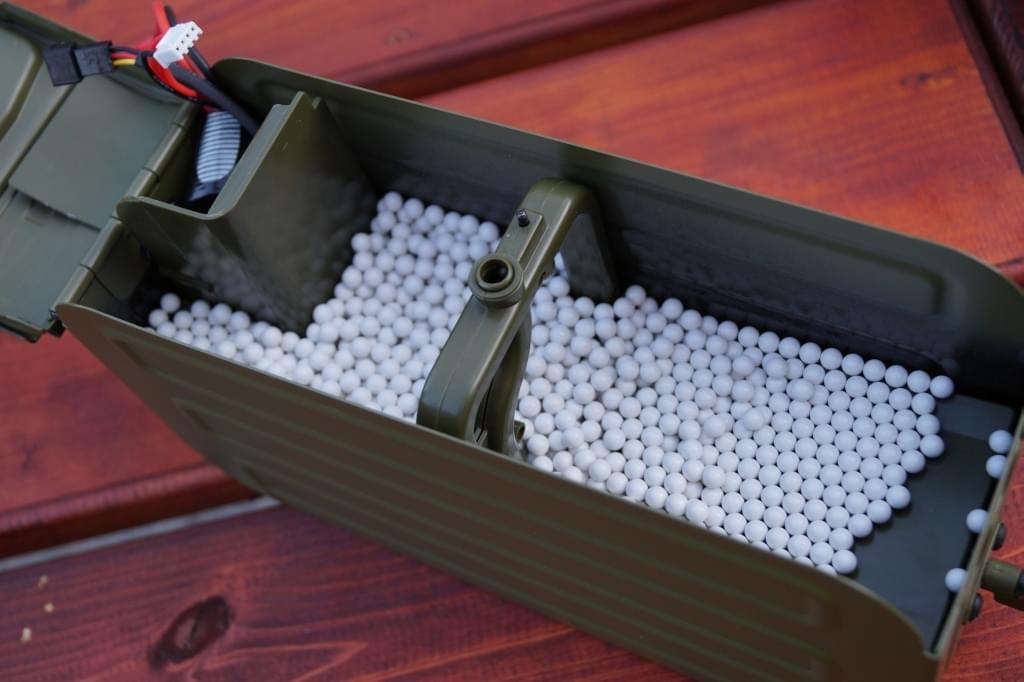 STRZAŁ nr 1: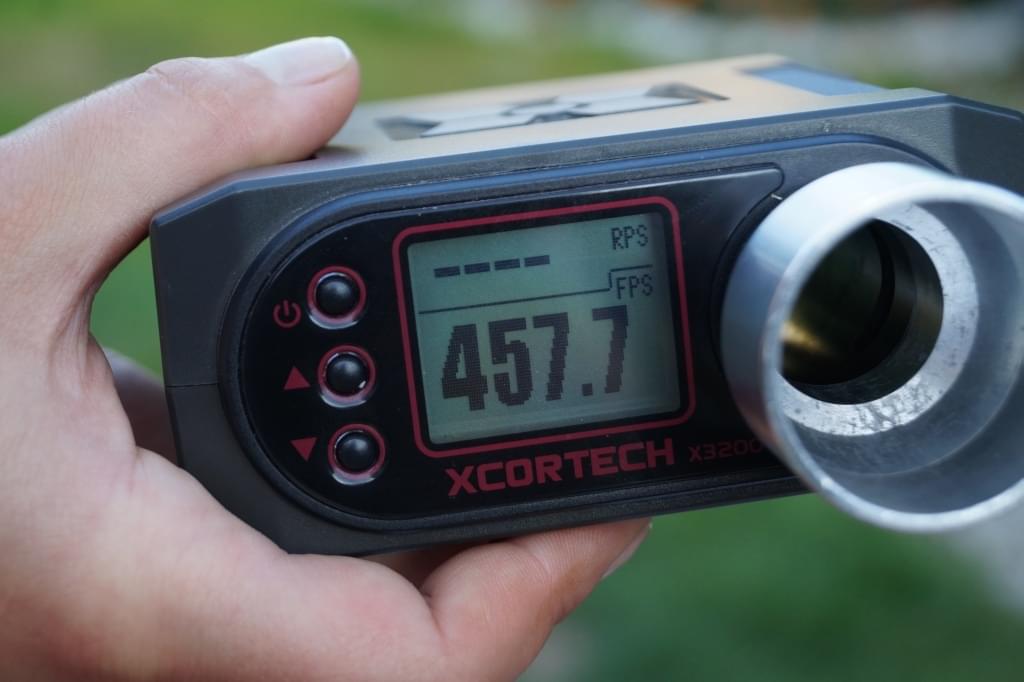 STRZAŁ nr 2: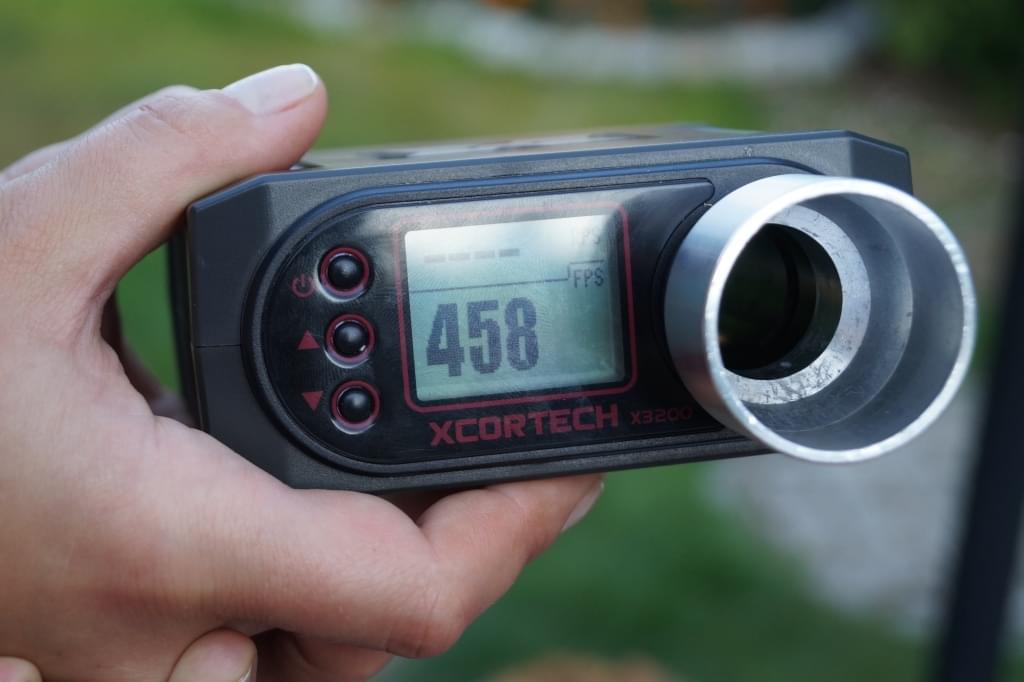 STRZAŁ nr 3: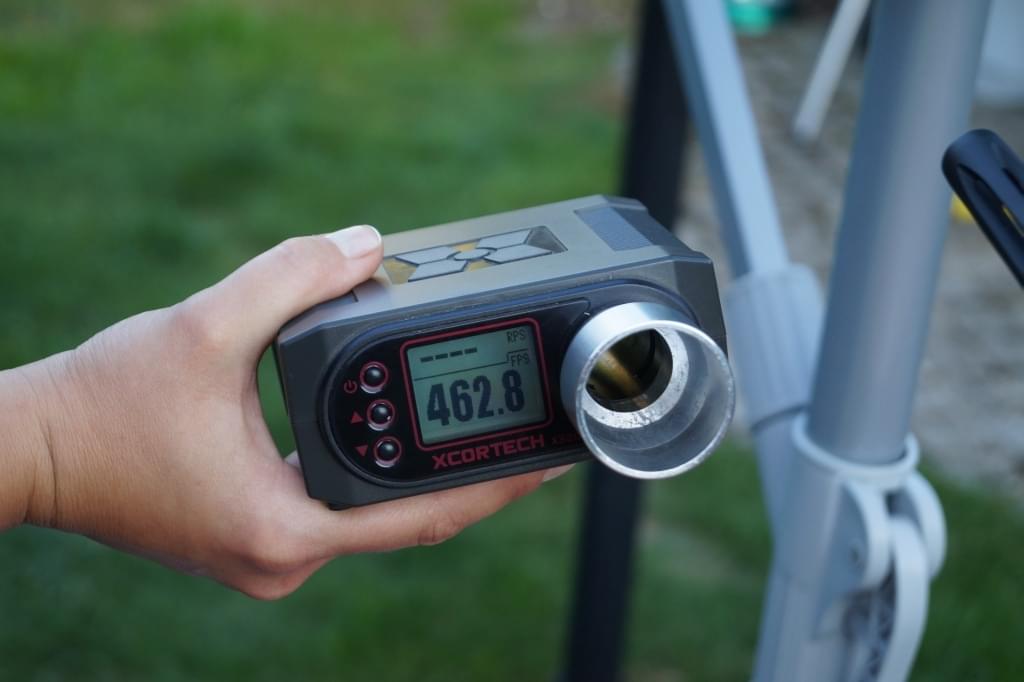 STRZAŁ nr 4: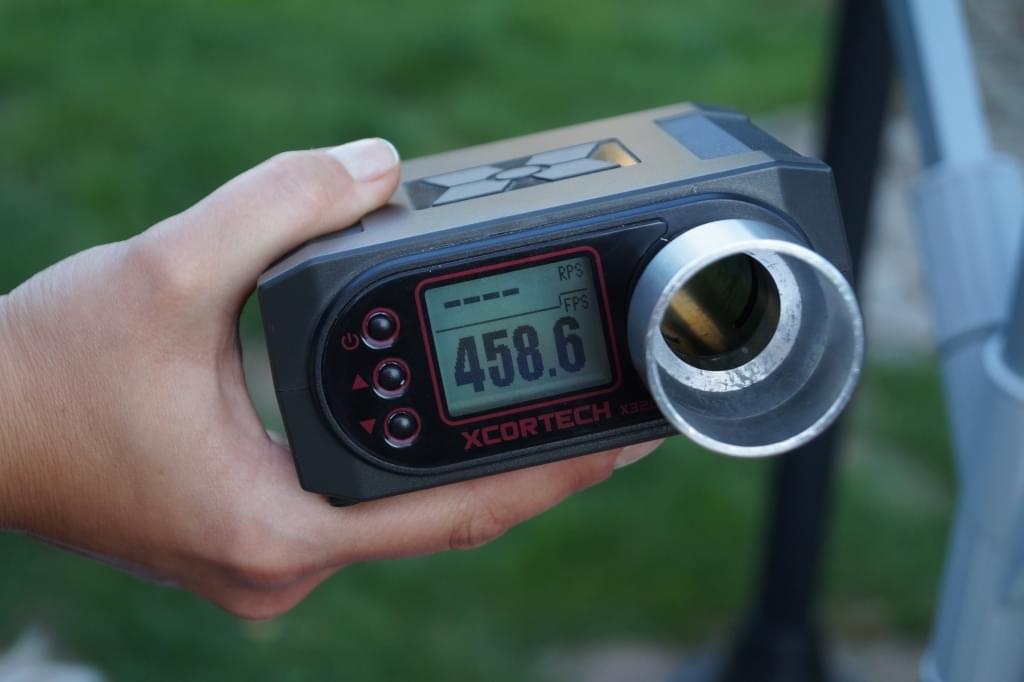 STRZAŁ nr 5: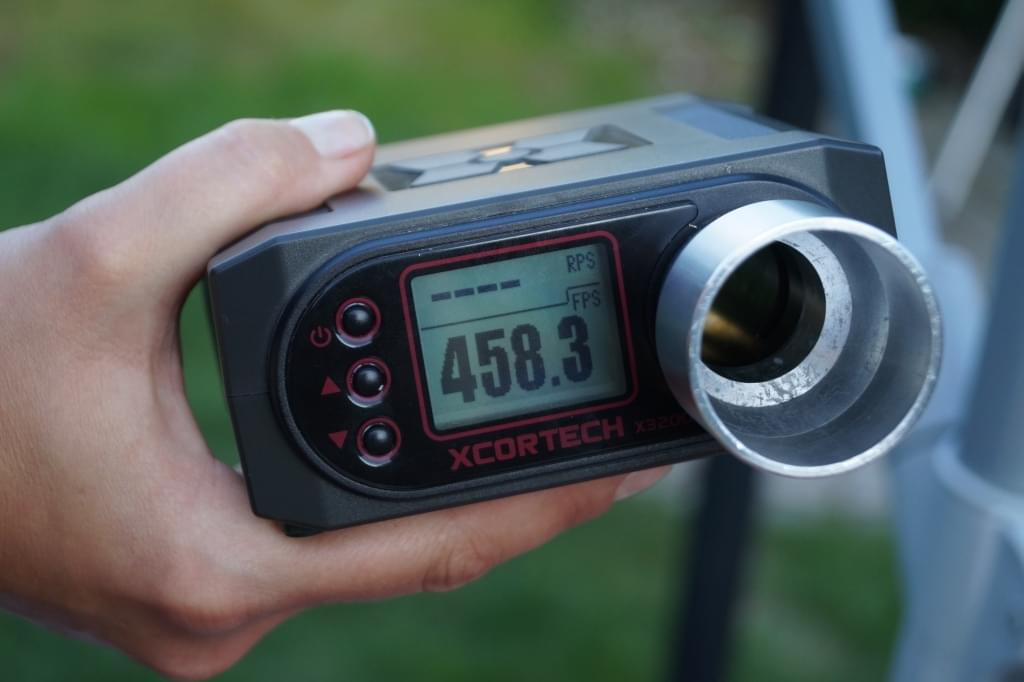 Jak widać,wynik stockowej repliki oscyluje w granicach 460 fps.

7 ) PODSUMOWANIE:

Powtórzę się po raz kolejny ale w większości przypadków, ciężko się tu do czegokolwiek przyczepić. Oczywiście minusy można znaleźć jak chociażby wspomniany luz na dwójnogu, czy mające mało wspólnego z palnym odpowiednikiem przyciski do regulacji szybkostrzelności.

Niemniej całość robi wrażenie spójnej, solidnej i trudnej do zakatowania maszynerii. Czy tak będzie w trakcie użytkowania ? To się okaże. Póki co jestem bardzo pozytywnie nastawiony do tej repliki mimo faktu iż waży ona bagatela ponad 7 kilo


Jako, że jest to opis typu first feeling - nie zaglądałem do wnętrza GB. Jednak cudów nie ma co się spodziewać. Standardy A&K i słaby silnik to rzeczy znane z innych replik tego producenta.

ZAPRASZAM DO DYSKUSJI I PYTAŃ w temacie repliki PKM

Na koniec kilka fotek poglądowych na replikę PKM firmy A&K: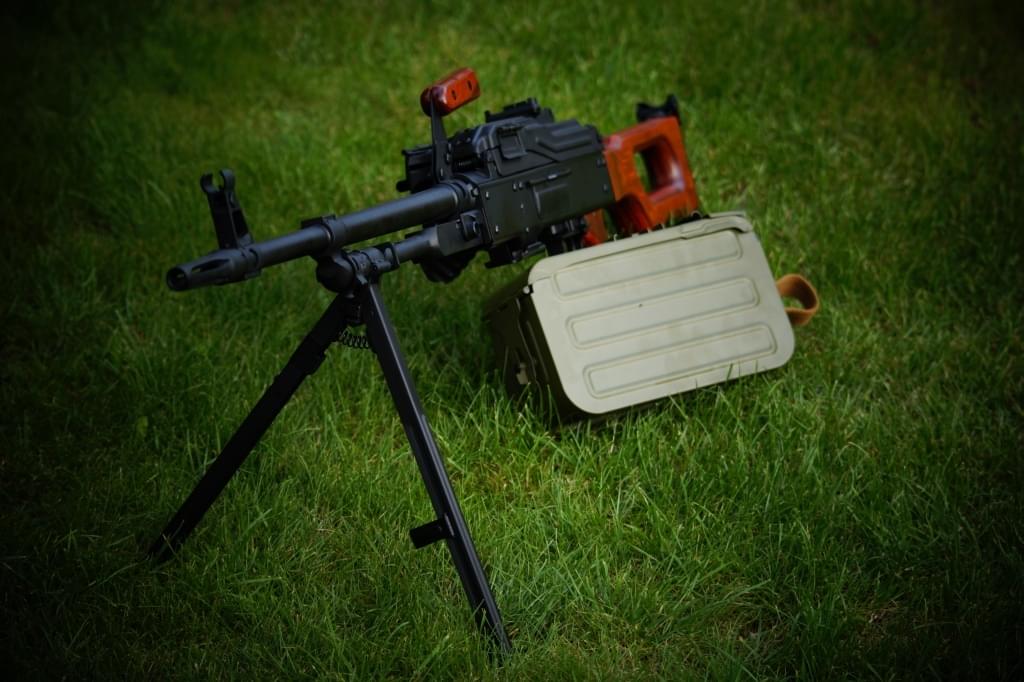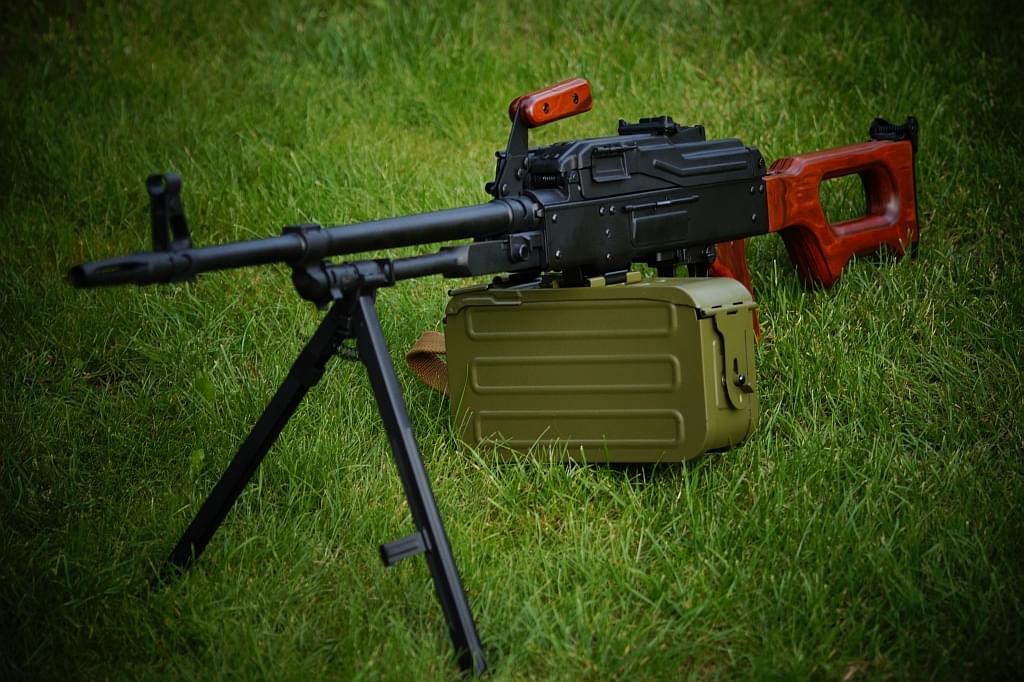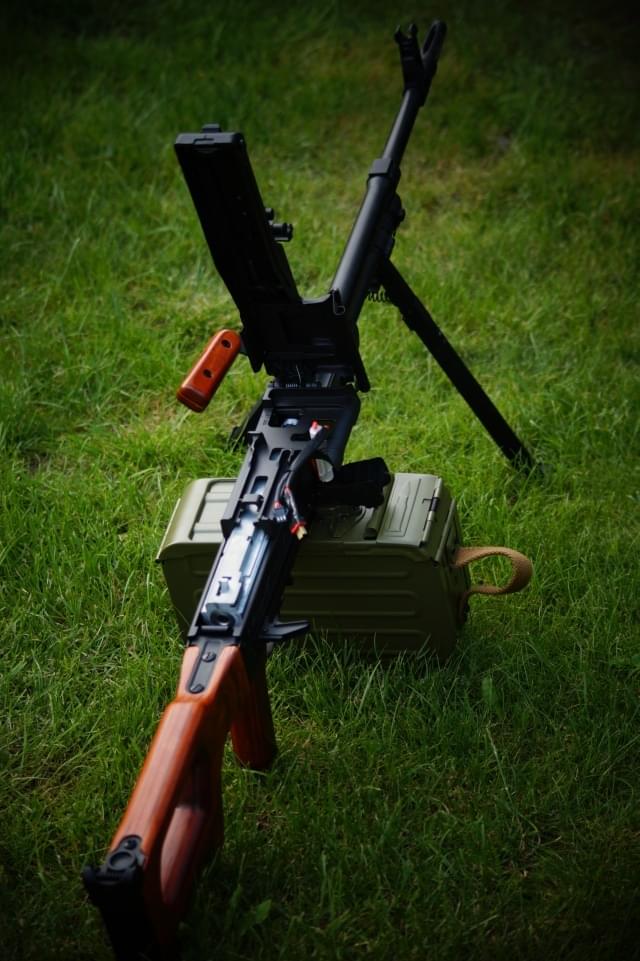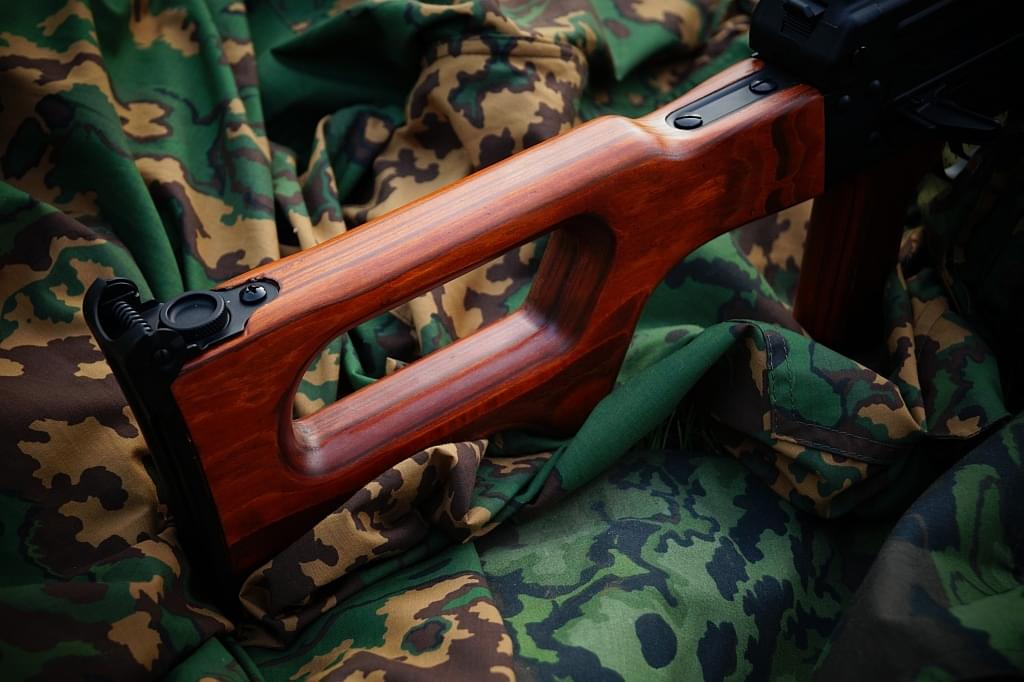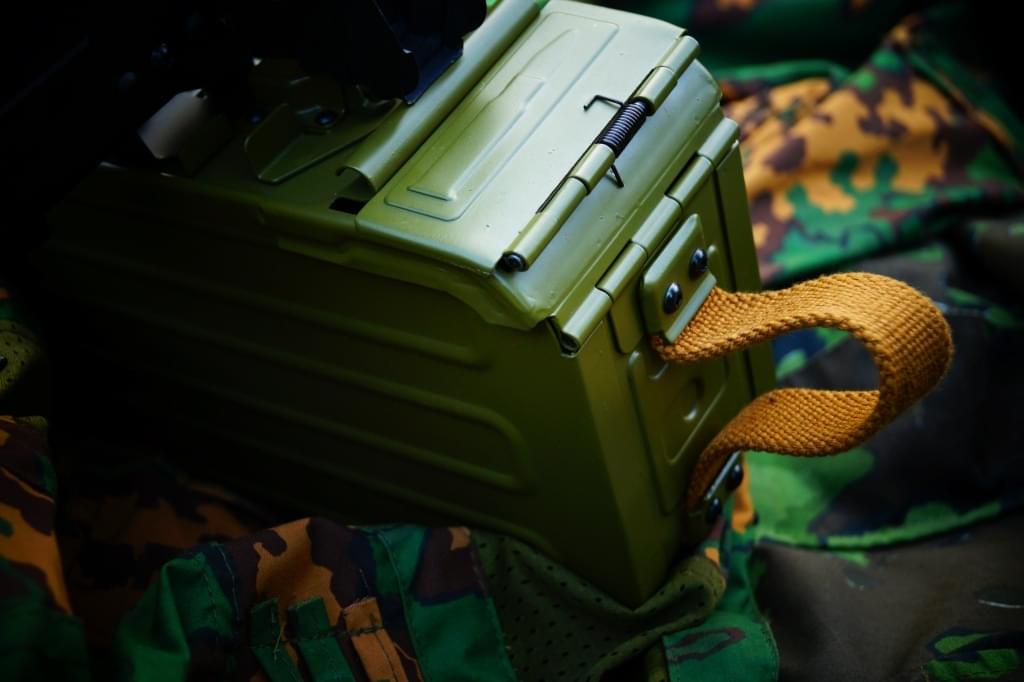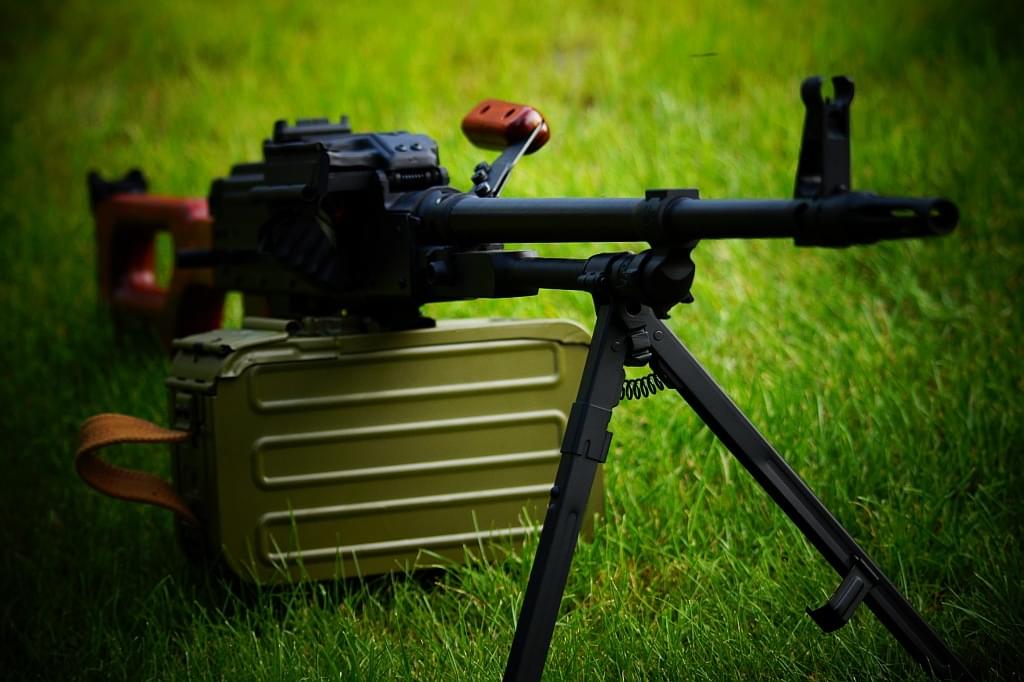 Cała recenzja (opis oraz fotki) opiera się wyłącznie na moich opiniach i została napisana przeze mnie (MILO -BLACK WIDOW KP SŁUPSK) co oznacza iż nie stanowi kopii z żadnej innej strony.