Robot Amstaf – bardziej wredny niż psi pierwowzór?
źródło: www.gadzetomania.pl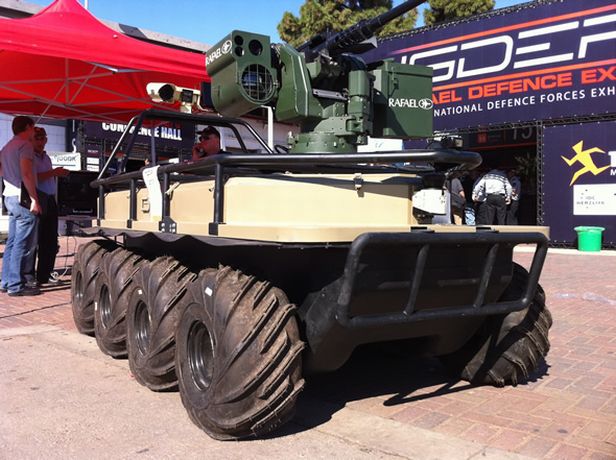 Zdjęcie: Tamir Eshel via Defense Update

Na tegorocznej wystawie izraelskiego przemysłu zbrojeniowego – czyli ISDEF 2011 – gospodarze pokazali uzbrojoną wersję bezzałogowego pojazdu lądowego. Dostał on przydomek Amstaf. Ma to najwyraźniej budzić jednoznaczne skojarzenia, co do jego bojowej skuteczności.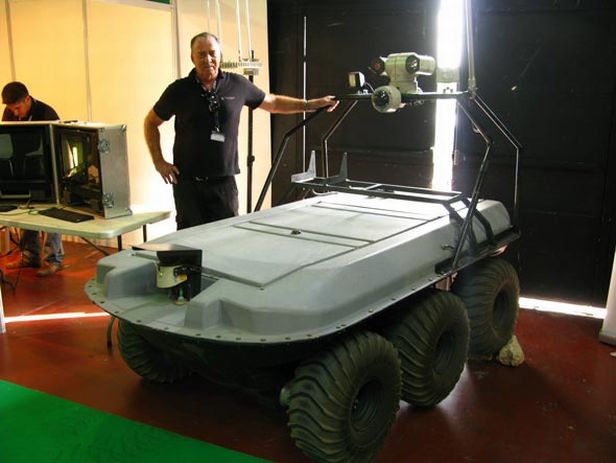 Foto: Noam Eshel via Defense Update
Prototyp Amstafa został pokazany po raz pierwszy rok temu. Pojazd opracowała firma Automotive Robotic Industries (ARI). Na zdjęciu widać jej prezesa, Amosa Gorena. Amstaf powstał przede wszystkim, jako platforma patrolowa-wartownicza. Miał on uzupełniać istniejące instalacje i systemy zabezpieczeń w ochronie obiektów.
W takiej konfiguracji, wyposażony w odpowiednie czujniki, np. kamery dzienne, noktowizyjne, termowizyjne, umieszczone na wysuwanym maszcie dla lepszego pola widzenia może wspomagać patrolowanie granic oraz wypełniać misje związane z rozpoznaniem na wypadek wypadków przemysłowych, pożarów, użycia broni masowego rażenia, czy wykonywać działania saperskie. W ramach 5. Armii Republiki Korei Amstaf patrolował linię demarkacyjną na granicy z KRLD.
Amstafa zbudowano na bazie komercyjnego pojazdu, czyli łazika ODG ARGO. Amstaf 6X6 ma napęd elektryczny pozwalający na 12-godzinne misje. Prędkość maksymalna to 42 km/godz, w wodzie 5km/godz. Opony o niskim współczynniku nacisku jednostkowego umożliwiają mu przejazd po minach przeciwpiechotnych bez ich detonacji. Amstaf może wspinać się na stoki o nachyleniu 37° z ładunkiem do 350 kg.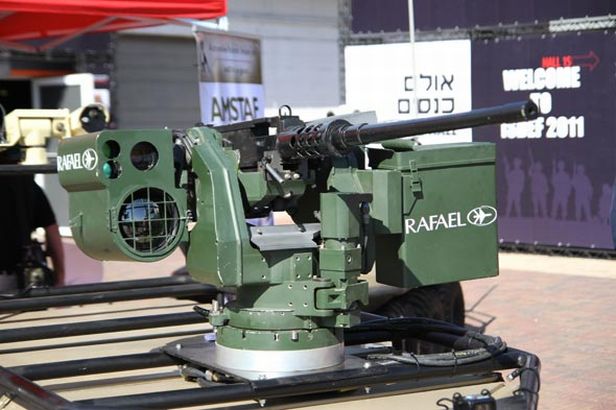 Zdjęcie: Noam Eshel via Defense Update
Uzbrojenie to zdalnie sterowany moduł strzelecki Rafael Samson Jr., częściowo stabilizowany. Wariant na zdjęciu uzbrojony był w km kal. 12,7 mm. Zespół celowników składa się z kamery dziennej, termowizyjnej i dalmierza laserowego. Obraz przekazywany jest na pulpit operatora, którym jest militarna wersja notebooków Panasonic Toughbook lub inny przenośny pulpit-wyświetlacz.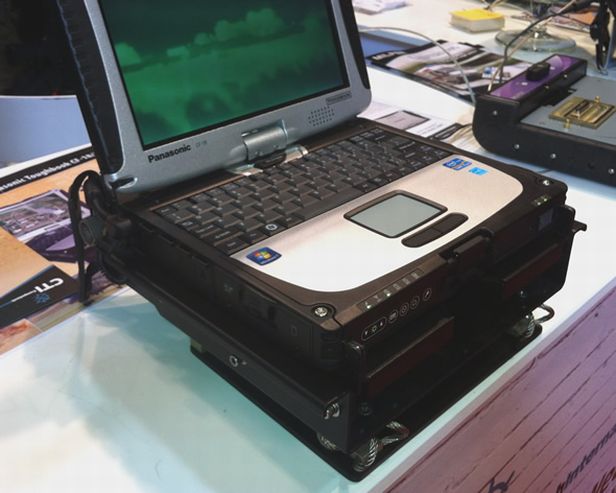 Zdjęcie: Tamir Eshel via Defense Update
Pełny tekst: LINK