CQB Door breaching, czyli "drzwi Twój wróg!"
Kamil K. "Mazi" - Specjalista wyposażenia i uzbrojenia SGO Gdańsk KOALICJA PÓŁNOC
Jednym z istotnych elementów CQB jest eliminowanie nie tylko przeszkód osobowych znajdujących się w polu działania grupy szturmowej ale również usuwanie przeszkód "rzeczowych" na drodze obranej przy operacji. Do jednej z najtrudniejszych przeszkód zaliczamy drzwi, których wywarzanie obejmuje ten artykuł.
WYWARZANIE DRZWI DZIELIMY NA:
- mechaniczne,
- balistyczne,
- wybuchowe,
- cieplne (termalne).

WYWARZANIE MECHANICZNE

Wywarzanie mechaniczne, to zwykłe użycie siły. Czasem używane są też wytrychy.
Przykłady narzędzi:
- młot,
- taran,
- łom,
- wytrychy,
- siłowniki i narzędzia hydrauliczne.

PRZYKŁADY NARZĘDZI:




PRZYKŁADY UŻYCIA: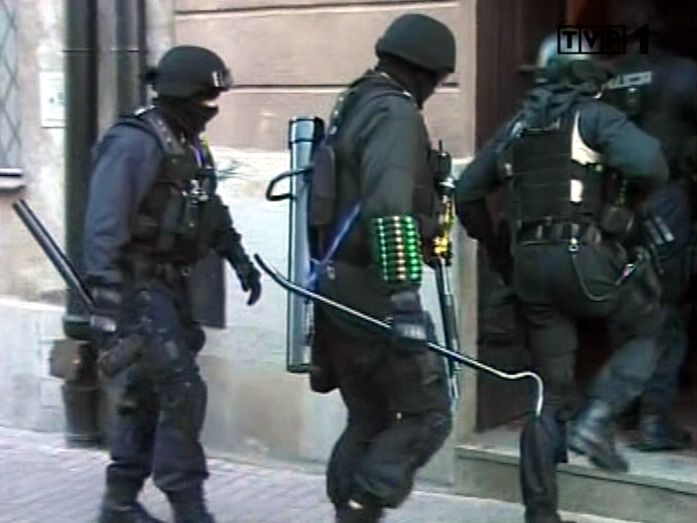 WYWARZANIE BALISTYCZNE

Wywarzanie balistyczne to strzał w zamek/klamkę/zawias. Używa się do tego głównie strzelb gładkolufowych kalibru 12, z racji możliwości użycia różnych typów amunicji. Pociski do wywarzania drzwi są zrobione z kruchych materiałów, lub sproszkowanego metalu. Są one tak zaprojektowane, by uszkodzić zamek/zawias i nic poza nim, by nie ranić ludzi przebywających w pomieszczeniu.

PRZYKŁADY AMUNICJI:





PRZYKŁADY UŻYCIA: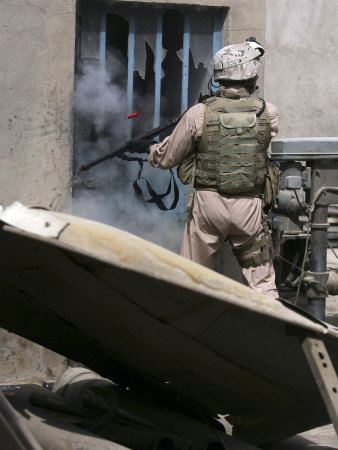 Do wywarzania balistycznego zaliczyłbym też tzw. Rebar Cutter produkcji Advanced Armament Corporation. Jest to urządzenie nakręcane na tłumik ognia/hamulec wylotowy karabinka. Służy do przestrzeliwania prętów zbrojeniowych.




WYWARZANIE WYBUCHOWE:

Wywarzanie wybuchowe to przeważnie niewielki ładunek (np. C4 lub Semtex) wyrywający zamek/zawiasy z drzwi. Stosuje się też specjalne granaty nasadkowe, jak np. Izraelski SIMON.

PRZYKŁADY UŻYCIA:




SIMON:



Jeszcze raz SIMON.:




Moment wybuchu granatu: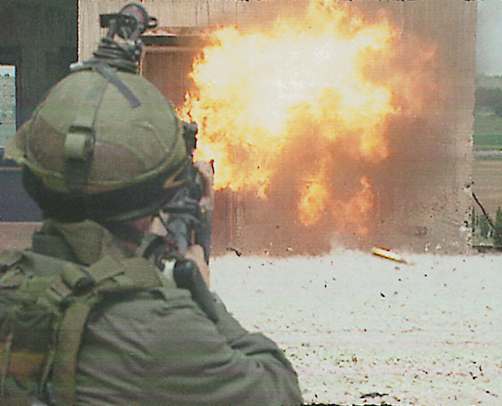 Według mnie do wywarzania wybuchowego zaliczają się też ładunki "wycinające" dziury w ścianach, jak np. Gatecrasher.




Moment wybuchu.



"Wycięte" wejście:



WYWARZANIE CIEPLNE

Wywarzanie cieplne (termalne) to proste cięcie palnikiem. Czasochłonny proces, ale jeśli ma się przed sobą ciężkie stalowe drzwi czy ścianę, czasem nie ma innego wyjścia.




No, to chyba wszystko. Was zachęcam do zamieszczania w temacie DYSKUSJE NT TAKTYKI i STANDARDÓW WEWNĘTRZYNYCH wszelkich uwag i pomysłów dotyczących sposobów i narzędzi stosowanych do "breachingu".